Celler Comunica, Montsant  
Priorat with a sense of humour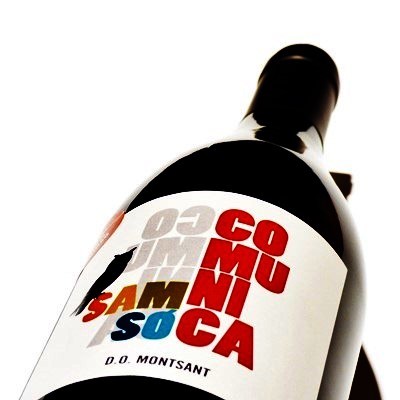 Celler Comunica is located in the town of Falset, 370 metres above sea level in a dry, Mediterranean climate. The vineyard age ranges from 25 – 75 years. Patri Morillo and Pep Aguilar—the winemaking team known as "Ya Le Llamaremos" ("we'll call you") — were not born into the world of wine. They did find it though, and with great passion over the past six years, they have been helping small families around the Mediterranean with their winemaking aspirations. "Comunica" ("speak to me") is their own project. The common wine style in Montsant has been "chasing Priorats"; the moniker which refers to Montsant as 'the poor man's Priorat' is a misnomer that Pep & Patri have handily dispensed with. By leaving the wine unoaked, they have left us with the salient details in a wine: the soil, the fruit and the vintage.
The grapes here are Garnatxa and Samsó, which we also know as Carinenya/Carignan (generally old vines) on granitic sand and clay. Farming is organic, vines are a mixture of bush and wire trained. Harvest is by hand and vinification is done with indigenous yeasts.  Whole clusters are put in tank followed by manual punchdowns. The wine is aged on lees in tank and the wine is bottled without filtration and fining.
Comunica is 45% Garnaxta, 45% Carinena & 10% Syrah from 370 metre high vineyards and 25-70 year old vines with a 12-18 day fermentation. This fresh and lively red enchants with its raspberry, blackberry and cherry fruit aromas, spices, smoke, herbs and stony minerality. On the palate the wine is full-bodied, with fruit, mineral and herb components all in perfect harmony. This is Catalan wine par excellence and would pair perfectly with the food of the region: tangy goat cheeses, spicy romesco, pa amb tomàquet (grilled bread rubbed with tomato, olive oil, garlic and salt) and sausages.
Comedia is Garnaxta & Samsó from 35 year old vines on mainly limestone soils with a little granite. Maceration and elevage is done in 5,000-litre inox tanks for six months. This is fun, fresh and fruit-driven, chirpy and chippy and ever-so-drinkable.
Samsó is 100% Samsó (Carineyna) from 70-90 year old vines on alluvial river soils. Maceration in 1,000 litre with pigeage for 12-18 days. Aged for 10 months in inox vat for ten months on the fine lees. This is a bigger, more structured wine with bitter dark red fruit flavours and a belt of tannin.
All the wines, characterised by their quirky labels, communicate a sense of fun. Call us! 
2013 La Comedia
2012 Comunica
2011 Comunica Samso
Comando G, Sierra di Gredos & Avila
"G Force"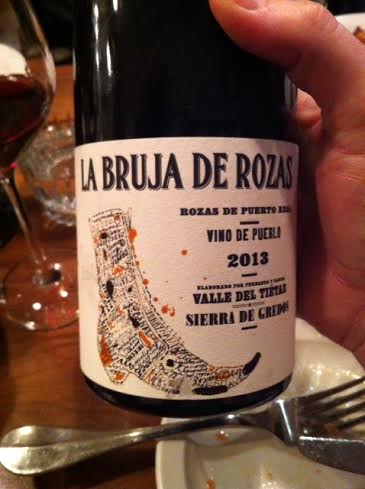 Bodega Comando G is made up of Fernando García, Daniel Gómez Jiménez-Landi and Marc Isart. They met in 2005 while at university where they forged their friendship based on a mutual passion: making first-rate Garnacha wines, which capture and express the terroir of the unique plots where the grapes are grown. Three years later, in 2008, they launched the Comando G (G for Garnacha) business venture. Although there are some who affectionately call them the 'enochalados' ('crazy oenologists'), in reality, this 'online cooperative bodega' (as described by El Mundo Vino) is carrying out the very serious task of searching for old-vine vineyards planted with the Garnacha grape variety in the Sierra de Gredos, located between the provinces of Madrid and Ávila. And the truth is that their work represents an authentic breath of fresh air, both in the winemaking process — extracting the personality from each individual plot. There are three hectares of old Garnacha vines spread out among the villages of Cadalso de los Vidrios and Rozas de Puerto Real, near the Sierra de Gredos mountains, on granite soil and at an altitude of between 900 and 1,000 metres.
La Bruja is made from the grapes grown in two vineyards located in Cadalso de los Vidrios (Madrid) which together add up to 2.5 hectares of granite soils, planted with 50 to 80-year old vines. The grapes from both vineyards are fermented and aged separately in wooden vats, using native yeasts and gentle maceration processes. Ageing takes place in French oak, first in 25-hL vats and then in 500-litre barrels, over a total of five months, which produces 5,000 bottles. This wine, according to its creators, is "jovial and young, it's the pure essence of fresh fruit, and a great introduction to the world of our Garnacha wines". Its enchanting labels — which show the 'bruja' (the witch) carrying out various winemaking tasks — change with every vintage.
Garnacha in this form, pale, fresh and mineral, is Spain's great red grape and bears a resemblance to Pinot Noir. Fernando Garcia is quoted as saying: "The three of us have a certain weakness for Burgundy Pinot Noir and we are convinced that our Garnachas can produce equally elegant wines as long as you look after the grapes and harvest early".
2013 La Bruja de Rozas
Alfredo Maestro Tejero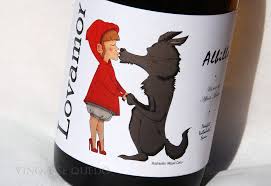 Two newbies (for us) from the maestro himself. The first called Lovamor (lovethelabel) is 100% Albillo, a white grape variety found both in the Ribera del Duero region as well as the environs of Madrid. Maestro's vines are 100-120 years old, planted on clay and limestone soil. The vineyard is 800-1100 metres in elevation located in the Ribera del Duero DO, although this is labelled "Vinos Blancos de Castilla y Leon". The grapes see six days of skin contact, and are fermented without the use of oak.  Native yeasts and no added sulphur. Only a few bottles of wine produced apparently. The colour of farmhouse butter, aromas of russet apples, medlars and a chalky finish. Quoth the raven "Love amor". Difficult to place, but incredibly moreish. Joviality will ensue once you taste the Almate Joven – a plum, berry and cherry compote that is natural Tempranillo au natural (ie sin crianza). Exceptional value as per usual.
2013 Lovamor
2013 Vina Almate Tinto Joven
Cascina degli Ulivi, Stefano Bellotti
Peachy Gavi (just don't mention the peach trees)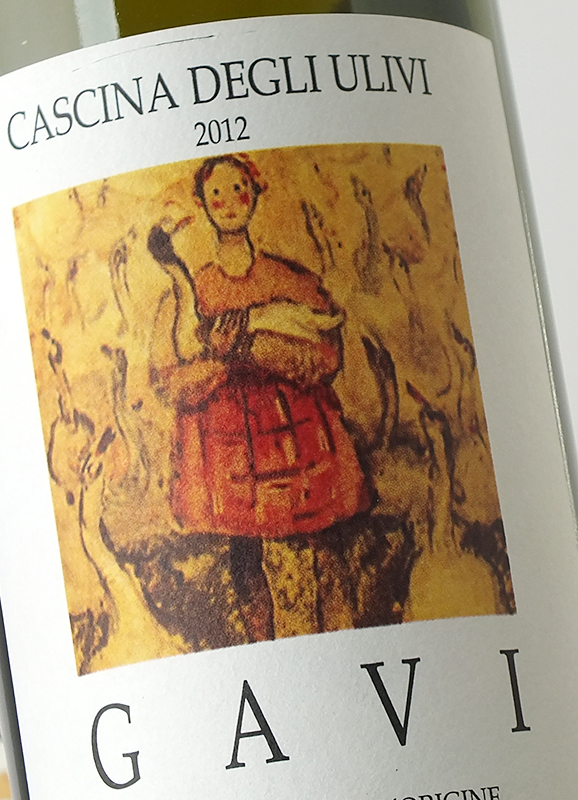 Cascina degli Ulivi produces wines from vineyards of around 16 hectares that have been worked using biodynamic farming methods since 1985. The estate has been in the Bellotti family since the 1930's and is now run by Stefano and his wife Zita. They are committed to the fundamental beliefs of the one farm approach and, in the Gavi town of Tassarolo, run the estate as an organic farm with a restaurant and accommodation where practically everything served is biodynamic organically raised on their farm. "We consider that the soil is a 'companion organism' for everything that lives. In working our vines, we foster the potential harmony of all those forces that contribute to the flow of vitality (of the vine)" according to Stefano. The hard work and dedication is immediately evident in the vineyards where Stefano's parcels are adjacent to other producers of the area and form which the health of the vines is immediately apparent to the eye.
The estate handpicks in small boxes and uses only the indigenous yeasts to ferment the wines. Use of oak is limited to large, successively-used barrels of traditional provenance.
The Gavi DOCG comes from three parcels of red limestone clay soils and vines of various age. It is fermented naturally and aged in large wooden vats. The wine is bottled in the late spring of the year following the harvest. This is a lovely fruity expressive Cortese with gentle apple and pear fruit to the fore, ripe acidity and a pleasing bitterness that gives strength to the wine. Delicate suggestions of herbs in the background such as fennel & wild sage.
2013 Gavi DOC
Cooperativa Valli Unite
The United States of Piemonte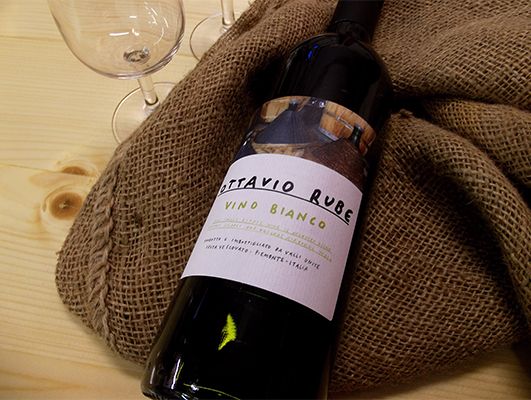 This co-operative was born over thirty years ago. At a time in which increasing numbers of people had moved to the cities and to factory work, three young men from local farming families got together to discuss the future of farming in this area.  They were deeply attached to the work and to their own land, but they wanted to find new ways of using traditional methods. To begin with they merged their vineyards and built stalls for farm animals so they could use organic manure to fertilise their fields and vines. The old ways were combined with a very modern belief in organic farming as the way of the future, as part of the wider project known as 'contraction', involving reducing the human impact on the natural environment.
Viticulture is non-invasive. Old-fashioned sickles are used to hoe the weeds, the vines are fertilised with manures from their cattle as well as green fertilisers composed of clover and weeds. Cement vats are used to ferment the wines.
The Ottavio Bianco is a rustic little Cortese – think bitter yellow cherries and wild herbs but a wine that exudes lots of energy and natural freshness.
2013 Ottavio Rube Bianco