Saar – Spoonerisms
Saar – Amazingly adjacent to Ruwer in this wine glossary. A tribute to significant tributaries that mosey on to the Mosel.
Sack – A drink consumed by John Falstaff in Henry IV Part II, a man himself who was a bit of a sack butt.
Saints & Sinners AOCs –
St Amour – the lovely Beaujolais (sometimes)
St Aubin – mini-me Puligny (white); mini-me Chassagne-Montrachet red
St Chinian – mainly reds, some wild and garrigue-haunted, some fruity and supple. Was originally St Anian, but somewhere in history gained its chi.
St Christol – lesser known eastern Languedoc appellation. The patron saint of lost appellations.
Ste Croix du Mont – mini-me Barsac
St-Drezerey – tiny obscure appellation in eastern Languedoc. The patron saint of wet weekends in Skegness.
St-Emilion – Mainly Merlot, mediocre to monumental (where it is known as St-A-Million)
St-Estèphe – The home to a famous lettuce, a Scottish town and a heart-shaped skiff
St-Jean-de-Minervois – A hamlet that lets the finest fortified Muscats out of the bag
St-Joseph – Que Syrah Syrah etc… Plus the rhyme of the ancient Marsanner.
St-Julien – Englishman's claret, the crown jules.
St-Laurent – Grape commonly seen in Burgenland in Austria.
St-Macaire – Undistinguished sweet white Bordeaux wines to be drunk in the meadows and marram grass on the Atlantic shoreline the Hebrides. Obscure but true.
St-Mont – Gascon region making reckonable whites from Arrufiac, Petit Courbu & Manseng. Best drunk with the homophonic salmon.
St-Peray – Mainly sparkling but a little white wine à la St Joseph. The white tastes like perry.
St-Pourçain – Off map little zone producing whites from Tresallier, Chard & Sauv, reds from Gamay & Pinot.
St-Romain – Pretty Burg village with a bit of altitude. Good quality and good value Pinots and Chards.
St-Saturnin – West of Montpeyroux in the Coteaux du Languedoc. Wines that frown a lot.
St-Veran – One of the best value white Burgs.
SALES REP OF THE YEAR
New Wine For Old! New Wine For Old! There's a lot of dust on that bottle. So bad for asthma. And look at the label – so faded. You can hardly read H**T BR**N – could be anything. Wouldn't you like a clean bottle with a glossy label and a funny, happy name? I have one with hopping kangaroos. Of course, you would. Let's see the date. 1961? Oh my God, it's over forty years past it's sell-by date. Listen, I give you a bottle with a new sell-by date – see, NV; that means you drink it any time forever you know what I mean? On my mother's life! First growth? Schmirst growth. That's one out of five, madame. No, cork is cheap – look it floats like a witch, trust me – get yourself screwcap, I give you no-charge rust-free guarantee…
Salvagnin/Salvagnin Noir – Proof that there are not enough letters in the alphabet to encompass the hundreds and thousands of minor variations and local versions of grape varieties.
Santorini -"Few wines taste of disaster and catastrophe… [one of the most evocative] was born of a volcanic explosion, many times more powerful than Krakatau, which blew the heart out of one of Greece's Cycladic islands. The exact moment remains conjectural, but recent radiocarbon dating of a buried olive branch suggests sometime around 1614 BC: the wine is the Assyrtiko-based white of Santorini. It is, for me, the most pronounced vin de terroir in the world. In no other wine can you smell and taste with such clarity the mineral soup and bright sunlight which, gene-guided, structures the grape and its juice. As an unmasked terroiriste, there was no vineyard I was keener to visit…
"Santorini has some of the world's oldest vine roots…in the world's youngest soils. When you taste a Santorini white, you are tasting a collision in plate tectonics…Like a geological slipped disc, Santorini is where the pain keeps erupting…"
–(It can only be) Andrew Jefford
Saperavi – A teinturier grape found in Georgia, Russia and surrounding countries. With tannin, acidity and colour darker than Pluto's palace this is a drink that you can pour by the jugload over a French wine bar owner.
Sauvignon – Did you know that Sauvignon derives its pungent aromas from the gooseberry bushes that grow everywhere in Marlborough, New Zealand?
Savoury – sapid, tasty and moreish often with a hint of spices.
Savvy – What Aussies and Kiwis call Sauvignon (or Sav) Blanc.
Savvy 2 – Savagnin, Savatiano, Savennières, Savigny-lès-Beaune, Savoie
Sav-Nat – A natural Sauvignon
Scandal – That which refreshes the jaded schadenfreude buds. Often associated with Bordeaux and Burgundy, particularly the activity of passing off a wine as the 100% pure, fine and upstanding product of a specific village or region, when in fact the wine has been adulterated or "improved" by the addition of extraneous agents.
Example:
The 'Pinotgate' scandal, allegedly involving 18 million bottles of fake Pinot Noir from the Languedoc…
Ya think?
The hocus-pocus Pinot scandal following other fraudulent practices such as the aptly named Merlot-railings, Viognier-fence and Cabernet-hedge is apparently only the tip of the wine iceberg. 30 million bottles of Grenache claiming to have come from Burgundy for their Galloneuf-du-Pape wine blend are said to be "highly suspect."
Schist – Decomposing metamorphic rock that helps to compose the great wines of Douro, Côte-Rôtie, Alsace and Loire. Great terroir is said to be schist-hot.
Scholl, Aurelien – A tavern-keeper was loudly praising the claret he was just serving to the writer and his friends.
"You must admit, Monsieur Scholl," he said, "that you, an amateur, do find this claret the most generous wine you ever drank." "Most generous, indeed," was the reply; "it has given away all the good it possessed."
Scores – Mr Parker, the pundit. You must have heard the classic Parker story or variants upon the theme:
A man goes into a wine shop. "That case of claret you sold me last week. The wine was disgusting, absolutely undrinkable. I would like to return the remainder of the bottles". "But Parker gave it a 95, sir". "I'll take two cases then."
Scuppernong – Thomas Jefferson gave the state of North Carolina credit for producing "the first specimen of an exquisite wine," Scuppernong, and praised its "fine aroma, and chrystalline transparence."
Sekt – German sparkling wine associated with the Hollywood movies: Deinhard and Deinharder.
Sekt Aryan – Someone who believes in the absolute purity of sekt.
Sémillon – A grape that is sometimes pronounced Semeleon, perhaps in recognition of its chameleon-like qualities in that its neutral style seems to blend into the background.
Service – Restaurant Wine & The Customer Is Always Right – On the one hand the anachronistic flummery – tastevins, gilded balloons, wine disappearing to a distant waiter's stations, napkin twirling and a haughty manner. Overfilling glasses, bullshitting customers. On the other hand, the customer can be wrong. Ordering wine is a negotiation. Don't be obnoxious or arrogant because someone is serving you. Service is to facilitate enjoyment. There is no right or wrong.
Sex – Viagra is a major threat to Champagne according to sane and rational Pierre-Emmanuel Taittinger. Amid quips about stiff opposition and growing threats and moving Taittinger to the town of Condom, Taittinger raised a glass of his non-vintage cuvee brut and exclaimed: "This is better than bad sex. But only just."
Seyve-Villard – Not really worth seyving.
Sherry – "You have to admit, Maestro, that they certainly bottle things well in Andalusia," he said, taking a sip and giving a satisfied click of his tongue. "Look at it against the light: pure gold, Spanish sun. We have no reason to envy the insipid stuff they drink abroad."
The Fencing Master –Arturo Perez-Reverte
"He asked for a glass of Amontillado, but at the sight of this pale dry wine, the English author's soothing stories and gentle lenitives gave place to the harsh revulsives and painful irritants provided by Edgar Allan Poe. The spine-chilling nightmare of the cask of Amontillado, the story of a man walled up in an underground chamber, took hold of his imagination; and behind the kind ordinary faces of the American and English customers in the Bodega he fancied he could detect foul, uncontrollable desires, dark and odious schemes."
Against Nature -J-K Huysmans
Shoestring Root Rot – A country and western group that sings exclusively about vine ailments.
Sialogogue – Might be said of a wine that makes the saliva flow.
Siegerrebe – "A modern German vine crossing grown, like certain giant vegetables, purely by exhibitionists". (Oxford Companion to Wine).  Miaow!
Single-Entendre Wine – One in which the entire winemaking effort seems to have gone into creating a punning name for the wine.
Sizeism – The Chinese have created a 30 foot long 3 ton wine bottle called a Nebu-Rehe-Methu-Balth-a-Boam. The person who drank the so-called Chinese claret was said to be well Hong over.
Skin – The outer layer of the grape that gives the inner texture of the wine.
Slate – Critically negative reaction towards the idea that Mosel wines, for example, can derive any flavour from the stony terroir.
Smash/Smashable – An extremely quaffable wine (Aussie slang)
Smokiness – A widespread practice in Roman times was the storage of amphorae in a smoke chamber called a fumarium to impart smokiness to a wine's flavour.
Smudge Pot – An oil-based burner to ward off frost that may only be used whilst wearing Square Pants.
Snobbery – Let the base taste vulgar trash; to me golden-haired Apollo shall serve goblets filled from the Castalian spring.
Amores – Ovid
To have knowledge is a fine thing: to flaunt it, is vulgar. As Madame Leroi said: "L'amor? Je le fais souvent, mais je n'en parle jamais". The true love of food and wine comes not from the casual discernment of the epicene gourmet nor the Rabelaisian excesses of the gourmand; it stems from the impulse of generosity.
The earlier stages of the dinner had worn off. The wine lists had been consulted, by some with the blank embarrassment of a schoolboy suddenly called upon to locate a Minor Prophet in the tangled hinterland of the Old Testament, by others with the severe scrutiny which suggests that they have visited most of the higher-priced wines in their own homes and probed their family weaknesses. The diners who chose their wine in the latter fashion always gave their orders in a penetrating voice, with a plentiful garnishing of stage directions. By insisting on having your bottle pointing to the north when the cork is drawn, and calling the waiter Max, you may induce the impression on your guests which hours of laboured boasting might be powerless to achieve. For this purpose, however, the guests must be chosen as carefully as the wine.
The Chaplet -Saki (H.H. Munro)
Snobbery and Taste – a digression – In John Lanchester's brilliant novel The Debt To Pleasure, Tarquin Winot, the poisonous voluptuary and anti-hero, loves food and wine with an intellectual passion not reserved for his fellow man. Food, wine, art (and murder) share the same aesthetic in his universe of extraordinary order. He quotes Brillat-Savarin's dictum that "Gourmandism is an act of judgement, by which we give preference to those things which are agreeable to our taste over those which are not". Tarquin develops this duality further: "To like something is to want to ingest it, and, in that sense, is to submit to the world; to like something is to submit, in a small but contentful way, to death. But dislike hardens the perimeter between the self and the world, and brings clarity to the object isolated in its light. Any dislike is in some measure of triumph of definition, distinction and discrimination – a triumph of life".
This is the essence of extreme snobbery – obviously! The professed love of something warped into a miserly elitism, the assumption that just being surrounded by objets d'art allows one to pass distasteful judgement on all aspects of life. Des Esseintes in J-K Huymans "Against Nature" is another extreme example of wilful withdrawal, desensitising himself through sensual immersion in sickly luxury. The snob thinks nature is a mere extension of his pleasures; he interposes his own framework of values on all around him.
The worrying thing is that if you elevate wine to the status of fine art, you implicitly encourage the artist to interfere too much in the process, to over-refine the product to appeal to aesthetic values. As Patrick Matthews articulates in Real Wine: "Terroir responds to other external realities: a vineyard, a climate, a region, a growing season. Such an approach also introduces a moral dimension – a sense that the means are as important as the result, and that the wine should be a true and transparent record of what went into it". As with painting and music there are virtuous structures, but those structures must never overwhelm the essence of the work, whatever it may be. When Chagall talks about the purity that art aspires to, he is also pointing out that it is the artist must be humble in the face of nature.
Sodality of Wine – "Alcohol makes other people less tedious, and food less bland, and can help provide what the Greeks called entheos, or the slight buzz of inspiration when reading or writing. The only worthwhile miracle in the New Testament—the transmutation of water into wine during the wedding at Cana—is a tribute to the persistence of Hellenism in an otherwise austere Judaea. The same applies to the seder at Passover, which is obviously modelled on the Platonic symposium: questions are asked (especially of the young) while wine is circulated. No better form of sodality has ever been devised: at Oxford one was positively expected to take wine during tutorials. The tongue must be untied. It's not a coincidence that Omar Khayyam, rebuking and ridiculing the stone-faced Iranian mullahs of his time, pointed to the value of the grape as a mockery of their joyless and sterile regime. Visiting today's Iran, I was delighted to find that citizens made a point of defying the clerical ban on booze, keeping it in their homes for visitors even if they didn't particularly take to it themselves, and bootlegging it with great brio and ingenuity. These small revolutions affirm the human."
Hitch-22: A Memoir -Christopher Hitchens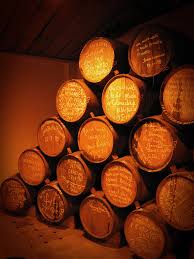 Solera – A place where Palomino grapes can top up their brown juice tan.
Sound gulps – Simplification of nuanced issues in the wine trade, the result of careless reportage and wannabe-smart-alecky-but-actually-clunky, headline grabbers.
Spanish Wines, Ron's Guide To – Spanish wines – are they off their Riojas? Prices soaring like a bull-market. Toro Toro Toro – like Pearl Harbour! Pearls? Before wines? Ah drying out on mats in the bodegas – and that's just the workers. Abiding image. El Tel given the Spanish archer (El bow, ho ho) by the crafty Catalans – they know what they're doing – Torres, Torres, Torres everywhere you look. Can you hear the drums, Fernando? Lieutenant Torres, Starship Voyager, half klingon-half woman, I know which half I would cling on to!
Spanna –
Howard Moon: I'm an explorer. Vince Noir: I thought you were a writer? Howard Moon: I do many things. I span the genres – they call me the genre spanner. Vince Noir: Yeah, they call you the spanner…
–The Mighty Boosh
Sphinx – The best riddler in the world of her day until Oedipus landed nearby on his gyropalette and terminated her contract with extreme prejudice.
Spoonerisms – Dowdy Clay, Grino Pigio. Reaming Seagull, Lick St…