Lava amour
Vino di Anna is a small, family wine estate situated on the north face of Mt Etna, Sicily. Anna Martens and Eric Narioo have been making natural wines together on Mt Etna for around thirteen years. Today, with a team of young locals, they cultivate seven hectares of land biodynamically. The majority of the vineyards are old bush vines (60 – 100 years-old) of Nerello Mascalese interspersed with indigenous whites (Grecanico, Catarratto, Carricante). The unique luminosity of these mountainous vineyards and the variable, decomposed lava soils give the wines a distinct minerality and sapidity. Wines are made with minimal intervention, indigenous yeasts, no additives, no fining or filtering and little or no SO2. A variety of fermentation vessels are used; a traditional Etnean palmento, stainless steel, wood, demijohns and qvevri.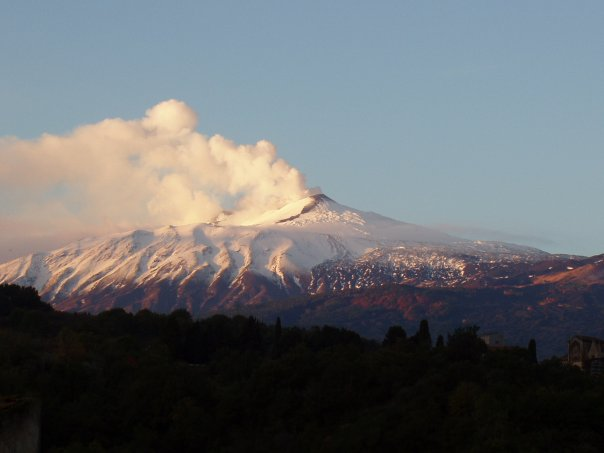 2022 Vino di Anna "Jeudi 15" Rosato
After skipping a year of making this wine due to the extremely hot growing season of 2021, "Jeudi 15" Rosato 2022 returns in a style that Anna and Eric like their Rosato to be – vibrant, fresh, crunchy and mineral.
In 2022, grapes originated for the Rosato from three vineyards; 120 year-old bush vines of Nerello Mascalese grown on the iron-rich, pomace soils of Monte Pomiciaro (near Linguaglossa, at 600 metres of altitude) and from two old bush vine vineyards co-planted to Nerello Mascalese and Grenache, on stony basalt soils, on the NW side of the volcano, in Contrada Nave (1000 metres of altitude).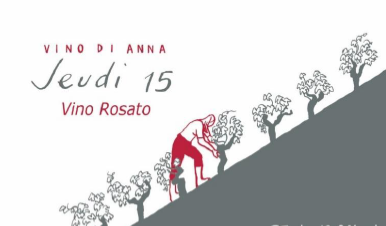 100% whole bunches from all three vineyards were left to macerate for 3 days in 10hl mastellone (food-grade plastic red tubs) with some gentle hand plunging. The lightly fermenting bunches were then pressed, and fermentation continued by indigenous yeasts in qvevri until dryness. Malolactic fermentation followed.
The Monte Pomicairo component was juicy, with crushed cranberry aromas, fresh yet quite simple. The wine made from the grapes grown in Contrada Nave was tart, crisp and mineral, with "pink lady" apple flavours. Blended together, they complemented each other. This wine was bottled at the beginning of February 2023, without being fined or filtered.
Salmon orange in colour, this wine has bright fruit aromas of cranberries, red cherry, and blood orange. It is fresh, vibrant, and crunchy on the palate with a light tannin structure, juicy red fruit flavours and a mineral undertone.
2022 Vino di Anna "Palmento Bianco"
Palmento Bianco is made from organically grown, indigenous Sicilian white grapes, principally grown high on the northern slopes of Mt Etna, Sicily. All the fruit was hand harvested from different vineyards, vinified separately, and then blended to produce a fresh, citrus, dry, mineral white wine.
This version of the white Palmento is a real tour of Sicily. 50% of the blend is Carricante grown in the contrada Crasa, under the village of Solicchiata. Half the grapes here were macerated on skins for 5 days and then pressed into a chestnut cask. The rest was direct pressed into stainless steel. 20% is Grillo, organically grown on the "terra rossa" soils of Marsala, rich in minerals. This fruit was macerated for one week on skins then fermented in stainless steel. 20% is Inzolia, organically grown on limestone-clay soils in Vittoria, south of the island. These grapes were direct pressed and fermented in stainless steel. The remaining 10% is a field blend of Catarratto and Grecanico grown in contrada Allegracore, also fermented in a chestnut cask. Each of the grape varieties were fermented by indigenous yeasts to dryness, underwent malolactic fermentation and all the components were blended together at the end of October. The finished wine remained on light lees and was bottled in mid- February 2023 without fining or filtration.
Pale straw in colour, this wine has attractive aromas of grapefruit and lemon with floral notes. The palate is dry, crisp and flinty with firm acidity. Citrus flavours are coupled with some white peach and a delicate nuttiness. The wine is light bodied yet flavoursome with an appealing sapid, mineral finish.
2021 Vino di Anna Jeudi 15 Bianco
The inaugural voyage of this white cuvée that expresses so much of what Anna and Eric love about Etna and the high-altitude vineyards where their grapes originate.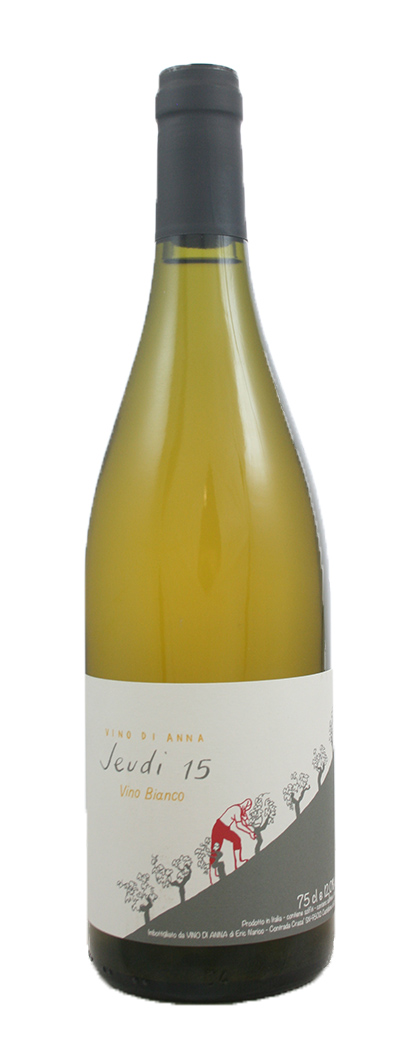 Altitudes of the vineyards range from 650m – 1100 metres. 40% of this field blend is made from grapes from the estate's "Vigna Nave", which is located on the north-western side of Mt Etna. This high altitude vineyard (1100 metres) was planted 20 years ago to Riesling, Chenin Blanc and Carricante in equal portions.
This is a blend of white grapes from different sites: 40% Grecanico (predominantly Grecanico Dorato), 40% co-planted Riesling, Chenin Blanc & Carricante, and finally, a 20% field-blend of Carricante, Catarratto, Minnella Bianca & Insolia.
The Grecanico grapes were macerated for one week on skins then fermented in used chestnut barrels (11 hl).  The estate's "Vigna Nave" grapes (Riesling, Chenin Blanc and Carricante) were 100% whole bunch pressed into a used chestnut barrel.  Further to this, a field blend (of Carricante, Catarratto, Minnella Bianca, Insolia) was whole bunch pressed into a 20hl French wooden cask and fermented with indigenous yeasts. The three wines were all fermented to dryness and underwent natural malolactic fermentation, were then blended together and remained on light lees until bottling in November 2022 without fining or filtration.
Mid straw in colour, the Jeudi 15 has brilliant citrus notes coupled with notes of white flowers and gunflint. It is dry, crisp and fresh on the palate with lemon and grapefruit flavours leading into that classic Etna underlying salty minerality.
Vino di Anna Andalou, Solera XXII – Vino Ossidativo
This is the first bottling of Anna and Eric's oxidative wine that has been slumbering gracefully in their underground cellar these past few years. It is delicate, nutty, floral, salty and flavoursome. The kind of wine that makes you stop and think about the passage of time…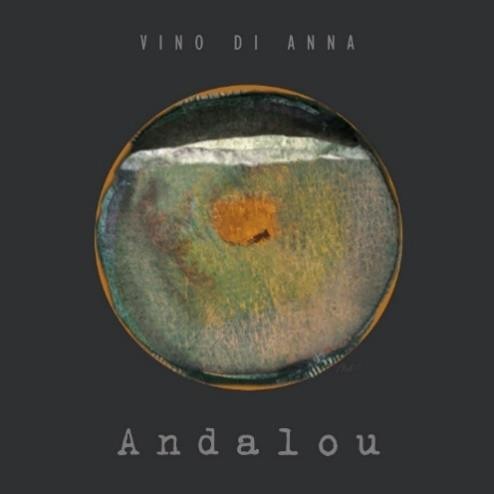 The journey for this wine to be created started several years ago. Inspired by the great oxidative wines of Andalusia and the Jura, Anna and Eric embarked on the idea of trying to produce this style themselves. A gift of two old barriques from a wine growing friend in the Jura set them on their path.
As for the process, let Anna Martens take up the story:
"Upon arrival in our cellar, the barrels were three-quarter filled with blend of white wine made from old vine Grecanico, grown high on the north western slope of Mt Etna and another white deriving from our vineyard in Contrada Nave, at 1100m of altitude. The barrels were then left untouched in the cool, damp cellar for three years. The ullage of the barrel enabled a flor (a film of yeasts) to naturally developed on the surface of the wine. This film of yeasts protects the underlying wine from the air present in the top of the barrel while a biological aging process starts to take place. The flor feeds off the alcohol present in the wine, producing acetaldehyde which has flavours of nuts and apples and with time, an incredible new style of wine develops.
After three years, we syphoned out a third of the wine from each barrel, careful not to disturb the flor and replaced the volume with a new white wine. Thus, creating a mini solera. This wine will continue to age in the cellar until deemed ready to be bottled."
Straw in colour, this wine is tangy, fresh and savoury. The nose is delicate, hedonistic, smelling of salted almonds and yellow apples. The palate is dry, complex with hazelnuts and dried fruit flavours, an intense acidity, and a long, mineral finish.
2020 Vino di Anna Pirao Rosso
In 2015, Anna and Eric purchased a beautiful, two-hectare abandoned property, high above the town of Randazzo, in the Contrada Pirao. Amongst the chestnut trees, broom, wild apple, cherry and walnut trees, there were still some one-thousand centenarian, un-grafted bush vines dotted along the terraces. The purity of the grapes, the freshness of the acidity and the ethereal, fine tannins of the two glass demi-johns made from this vineyard in 2016, (suggested) they had stumbled across something quite special. Eric's "Garden of Eden" had been found.
The following years saw much time and effort spent on clearing and repairing the old terraces for planting, seeking and making massale selection cuttings from the best, high-altitude vineyards, planting all of these cuttings on their own roots; in the traditional high density quincunx pattern. All the time, watching over the old vines that had never been treated and continued to produce small bunches of healthy grapes. The remote location of the vineyard, in these first few years, proved both a challenge and an asset. Wandering cows, wild boar and birds feasted on the prized grapes all too often in these early years, meaning no wine was produced at all in 2017 and 2018. In 2019, solid fencing and careful pruning coaxed a little more from the old vines; the cool growing year resulting in a very austere/ethereal wine that still needs time.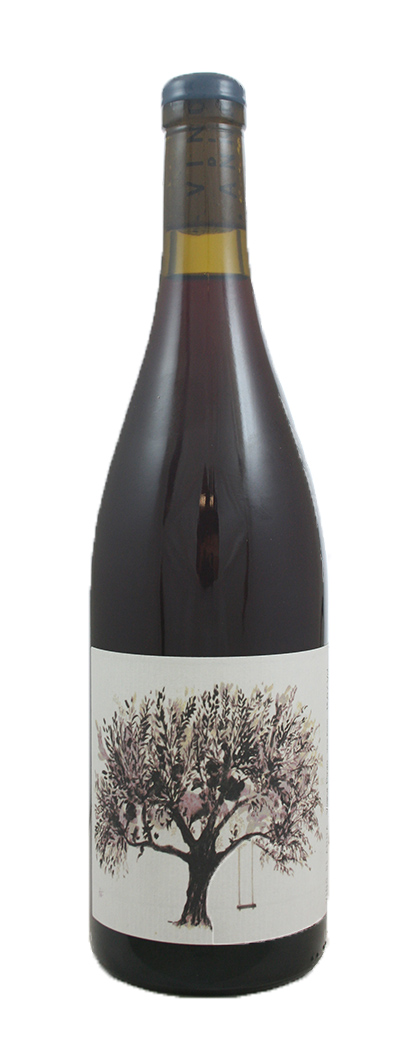 The warmer 2020 harvest produced a floral, pretty wine, with pomegranate flavours and an incredible underlying minerality. In this vintage, grapes were hand-harvested in early October (only a few hundred kilos in total) and were then wild-fermented in a small mastellone with indigenous yeasts, for about 10 days before being basket pressed. The new wine underwent malolactic fermentation in round glass demi-johns (54 litres) called Wine Globes. The wine remained on fine lees in these vessels until bottling without any additions, clarification, or filtration in June 2022.
Pale crimson in colour, this wine has delicate red-fruit aromas and floral notes. On the palate the fruit is both pure and ethereal. The wine has a distinct crunchy minerality, being both sapid and salty; almost crystalline in character. The tannins are fine and austere.
2022 Vino di Anna "Jeudi 15" Rosato
2022 Vino di Anna Palmento Bianco
2021 Vino di Anna "Jeudi 15" Bianco
Vino di Anna Andalou XXII
2020 Vino di Anna Pirao Rosso