This is a series profiling the producers on our list who make natural wines. Within this series we will be highlighting some of the extraordinary and rare bottles and vintages that have helped to shape our appreciation of natural wines over the years. Previous posts from our 100 Great Natural Wines series include Austria, Spain, and a hefty chunk of France & Italy, and can be found here.  Sicilia, part one can be found here.
Sicily has a rich and varied wine history, but as an island has developed its own unique wines from special terroirs. In the north east you have the fabulous volcanic terroir of the very active Etna and a panoply of local red and white grapes. On the western tip of Sicily is Marsala where Grillo thrives and close to the tip of Africa, the volcanic plug of Pantelleria where Zibibbo thrives to produce brilliant aromatic dry and sweet wines. West of Syracuse, on the Ragusan plateau is Vittoria, a region renowned for its Cerasuolo wines made from Nero d'Avola and Frappato.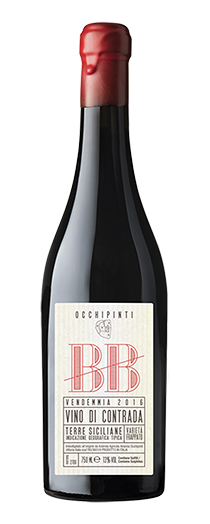 BOMBOLIERI ~ ARIANNA OCCHIPINTI
You say potato, I say Frappato
Arianna Occhipinti works diligently in the vineyards, finding an endless source of inspiration through observation. In particular, during the last few years, she has not only been focused on the splendid varieties of Frappato di Vittoria and Nero d'Avola, but also on the soil and on the potential of the various districts or contrade of Vittoria and their particular influence on the final wines.
Her SP68 Rosso and Bianco are both aromatic wines with that bit extra. The Frappato is super-charged. Long known as a blending grape in Cerasuolo, Frappato, in her hands, is an extraordinary wine in its own right. Light in colour yet remarkable in complexity with notes of cherry, raspberry and white pepper, this wine shows cool climate characteristics of this particular sub-region of Sicily. 70% of the Frappato is macerated for two months on its skins, while the other 30% stays on its skins for eight months.
The fluidity, the everchanging character of this wine is truly remarkable. Every time you think you have it pinned down, it throws something else at you. Here you are smelling cherries, and in come the figs, the raisins, before a whiff of fresh-cooked strawberries runs by. Pepper? Or is that smoke? Or maybe dried leaves. Or… no, maybe more blood orange. And then there's that floral character. A little volatile acidity is there, but it gets completely swallowed up by the swirl of aromas that keeps dancing around in the glass.
Arianna has now delved even deeper into the origins of the grape. The vineyards alternate on this game of sand and limestone; presenting themselves in the expression of the wines with fresh fruit and silkiness from one side, but also with great acidity and energy on the other. During vinification, Arianna works to preserve these elements whilst considering every aspect of every vineyard. This continuous research has been helpful to identify four vineyards for the SP68 between Santa Teresa, Bastonaca, Spedalotto e Bombolieri, two vineyards for the Frappato, Bastonaca and Fossa di Lupo; and two for the Siccagno, Bombolieri and Fossa di Lupo. The same exploration motivated her to go further, thinking about the concept: one vineyard – one wine. Or better yet, three wines.
She vinifies each wine in the same way so as to highlight the nuances. 20 days maceration (no extraction) in cement vats, wild ferment, 20 months in Slavonian oak, a further few months to settle and then bottling with filtration or clarification.
Pettineo, an historic contrada, a term used to refer a small district of the countryside, is located beyond Serra San Bartolo ridge; historically it has always produced very elegant wines thanks to a deep layer of marine sand (50-60 cm), with little presence of limestone rocks on the surface. The Chiusa di Pettineo vines are nearly 60 years old. Originally planted in a head trained or albarello system, the previous owner then transformed the vines into a trellised system, now with the vines climbing between the trellises into monumental heights. The wines of the Pettineo are usually fruit-driven with silkier tannins, yet possessing lively acidity.
Fossa di Lupo is more explosive with aromas of flowers such as violets, irises and roses, which lie like a fine perfume over the glass. The palate has nutty notes, black cherries, wild berries and a little tobacco. Fine and fresh yet complex and powerful.
Why we love this: Frappato, the historical variety of Vittoria, which Arianna is devoted to, may present itself variously as delicate, austere, and bloody. Here Frappato is an instrument to transmit the terroir, reading the earth, the smells, the daily perceptions, and converting them into wine.
If you like this: It is difficult to think of a wine which possesses the same cool intensity of Arianna's contrada Frappatos. Although the climate is very different the wine that has the most similar austere cutting-edge is Renaud Boyer's Saint-Romain Rouge, being a firm bundle of minerals and limestone energy.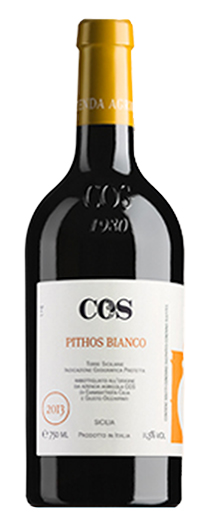 PITHOS BIANCO ~ COS
Feats of clay
The south-eastern province of Ragusa, around the town of Vittoria, is home to the revived Cerasuolo di Vittoria, a red wine made from Nero d'Avola and Frappato. The Italian government has just granted it DOCG status, which made Cerasuolo di Vittoria the first Sicilian wine to enjoy this designation. Yet little more than 20 years ago, the wine was in steep decline, one of the many southern victims of Italy's controversial law prohibiting the addition of sugar to wine to increase alcohol content, still enforced today. "Cerasuolo was hardly produced, because buyers did not want the wine in and of itself, but only the must from over-mature Nero d'Avola to add strength to their wines, the price of which was based on sugar content," explains Giusto Occhipinti, who started the COS winery with two classmates back in the early 1980s.
On a shoestring budget, the three friends vinified the grapes from their parents' vineyards. They even bought Angelo Gaja's used French barrels back in 1983 to age the wine. By the late 1980s, they started buying new barriques and felt the influence of California's Napa Valley. Other winemakers in the area were impressed with the results and also began making Cerasuolo di Vittoria, using the two local varieties instead of selling the grape juice from overripe Nero d'Avola. "Then we took a huge step back," Occhipinti recalls. "We tried some of our earliest bottlings, those matured in used barriques, and we were shocked at the difference. With its mineral notes and earthy sensations, the wine was so much more interesting than the later vintages matured in new oak with sensations of vanilla and toast. Just as everyone else in the mid-1990s invested in new French barriques, we began recycling ours. Since then the journey has taken them away from oak to cement and finally into amphora in order to obtain the most aromatic expression of the wines.
The movement away from oaked wines was mirrored by a more organic approach in the vineyard, eventually adopting some biodynamic practices there. Cement tanks are used for fermentation, except in the case of the Pithos wines, where terracotta clay vessels, buried in the floor of the cellar, are employed to ferment and mature the wines.
Cerasuolo may be what the region is known for. COS make a redoubtable version, a single vineyard iteration with extra ageing called Fontane, and a beautiful breezy and floral number called Pithos Rosso, which is the same blend, but is not aged as long. This was their first experiment with amphorae.
Whilst we love the silky and seductively fruity Pithos Rosso, it is the whites that attract us even more. All of them have some skin contact and possess fascinating phenolic structure.
We start with the Rami Bianco, a blend of Inzolia 50% and Grecanico 50%. Fermented in cement it retains a certain leafy pungency on the nose, but is fairly restrained, with notes of almond and straw, and some of that citrus quality. On the palate it is brisk and decisive, with a concentrated fruit quality that has a real tell-tale Italian bitter almond, or even Campari-like edge, to cool pear and lemon fruit. Where are the clams? Send in the clams.
The grapes in the Zibibbo in Pithos hail from the Marsala zone of western Sicily. Fermented in traditional method on the grape-skins, with a six-month maceration and then further ageing on the lees in the same terracotta pots, this is a lovely wine, amber-gold in colour, with an enchanting perfume of clover honey, jasmine and apricot blossom, vibrant and fresh on the palate with a gentle phenolic grip of apple-and-peach-skin, dried spice and honeydew notes mingling.
Finally, there is the Pithos Bianco (100% Grecanico) where the vines are grown on red soils formed of subalpine sands of Pliocene origin and contain limestone interwoven with compact layers of fresh clay and calcareous tufa. Here also the grapes are macerated with the skins for some seven months. This unfiltered amber number is the wildest from the COS stable, and makes use of a complex palette to paint its aromas and textures. Hints of white and yellow flowers, apricots and dried plums, an array of dried spices and the phenolic rasp of tannin.
If you like this: It is a structured skin-contact wine with a wonderful medicinal quality that makes you want to drink it. And although from a warm climate, it has moderate alcohol, which makes it even more pleasurable.
If you like this: Antonino Caravaglio was among the first artisans in Sicily to become organically certified in the 1990s; historically, his family's vines and caper plants for centuries have been farmed according to organic principles. Grapes are harvested by hand and fermented with indigenous yeasts. Very little sulphur is added during the winemaking process, to ensure the grapes' natural flavours are allowed to express themselves fully. Occhio di Terra Chianu Cruci is Malvasia delle Lipari and Catarratto. Chianu Cruci is the name of a part of Valdichiesa, a beautiful valley between the two volcanoes of the island of Salina. This wine is fermented with native yeasts only and rests on skins for thirty days gaining colour and tannic structure. The ageing takes place in terracotta amphorae for 6 months. A variety of aromas emerge from this wine ranging from chamomile, herbs (basil, rosemary, dried mint), followed by ripe yellow pulpy fruit such as mango and grapefruit and typical notes of salinity.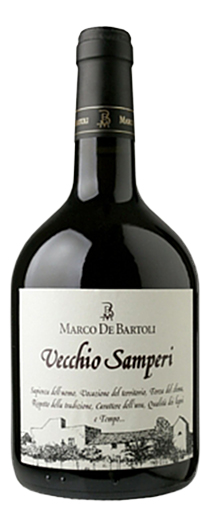 VECCHIO SAMPERI PERPETUO ~ MARCO DE BARTOLI
"Vino Liquoroso secco" (Marco de Bartoli)
Marco de Bartoli, who passed away a few years ago, was considered one of Sicily's winemaking pioneers for his long-standing commitment to the native Sicilian white grape varieties, Grillo and Zibibbo. He produced them on two separate estates: the first in Marsala, in Sicily's south-west corner, the other on the small island of Pantelleria, south-west of Sicily. His belief in the value of traditional methods of production of these grapes and their wines was complemented by his equally strong belief in the future of Sicily as one of Europe's most vital viticultural areas. Grillo, which historically forms the basis of Marsala's classic wines, has been grown on the island since Phoenician times. From his Samperi winery, in the Contrada Samperi just west of Marsala, Marco de Bartoli produced several wines from this grape. "Vecchio Samperi" was first made in 1980. Named for the territory that houses De Bartoli's country estate, it is a prestigious "Vergine" wine. Today, his family carry on Marco's legacy.
Vecchio Samperi is aged using the fractional blending method known as solera, made famous in Jerez.
Marco gave the wine its name in honour of Contrada Samperi, the area on the outskirts of Marsala, whose arid land, rich in limestone and minerals, is so well suited to vine growing. This was the starting point to develop and communicate his concept of 'terroir'. The vines are around 40 years old and trained in the traditional albarello.
The yields have always been very low for this particular wine – 20 hl/ha with strict manual selection. After a gentle pressing and natural decantation, the juice ferments with wild yeasts in a mixture of old oak and chestnut at ambient temperature.
To make Vecchio Samperi, the De Bartolis use the perpetuum ageing method. Using a battery of progressively smaller casks, they continually "top up" the oldest wines with wines from the next-oldest vintage, with the newest wines going in the largest cask at the end of the battery.
Vecchio Samperi has an average age of around 20 years with the smoky, nutty complexity of an aged Amontillado sherry. But Vecchio Samperi is unfortified, just as all Marsala was before the British came along towards the end of the 18th century and added spirit to it. The wine showcases the nobility and terrific acidity of the Grillo grape. It is seemingly dry (there is usually around 11 g/l residual), intense and mellow with flavours of chestnuts, Brazil nuts and orange peel. Try it with aged pecorino cheeses, or maybe slightly chilled alongside some shellfish or other seafood as an aperitif. It is a rare treasure in the world of wine and once described by Marco as a "Vino Liquoroso secco".
If you like this: It is a rare wine indeed where the quality of the original grapes is enhanced by the particular nature of the process. Normally, solera ageing creates liquid gold out of base grapes. Here the Grillo from its limestone origins, still shines, and is given extra dimension by the blending and the oxidative maturation.
If you like this: Marsala Vergine Riserva 1988 is a one-off, crafted by Marco de Bartoli himself, as an expression of the inner contradiction so typical in the Sicilian culture. In 1988, Marco challenged himself to create this marsala style wine as well, always and deliberately left aside because the only wine which could be proud holder of the "virgin" attribute was, in his view, his Vecchio Samperi, which evolved without any fortification at all. Marco's children, Renato, Sebastiano and Giuseppina decided to release this unique wine, similar to the Vecchio Samperi with its fermentation in oak and chestnut vats at room temperature, the difference being that part of the must was fortified in 1988 with the acquavite (brandy) obtained from the same grapes. After thirty years in chestnut and oak barrels of different sizes, the wine was bottled in January 2019. Almost like a cognac in colour and intensity, this meditation wine is one to be nosed in a large balloon (by which we mean a large glass rather than a dirigible).
Interested in finding more about the wines mentioned? Contact us directly:
shop@lescaves.co.uk |  sales@lescaves.co.uk | 01483 538820
*Note: We are still open for business, doing deliveries, and keen to help everyone with their booze needs in this difficult time. Natural wine lovers can visit our online shop and order online!