Clos Fantine is a small, family-run winery in La Liquière, located in the hills in the commune of Faugères. Having inherited the winery from their father, Olivier, Corine & Carole Andrieu continue the farming and winemaking tradition, but have taken it in a more natural direction. The property comprises around 30-hectares of organic vineyards, in which Mourvèdre, Grenache, Terret Blanc and Gris, Cinsault, Syrah and Aramon (a very old variety, planted in 1915) grow. The vines were freed from their trellising system around twenty years ago, and now floppy bush vines grow in even rows.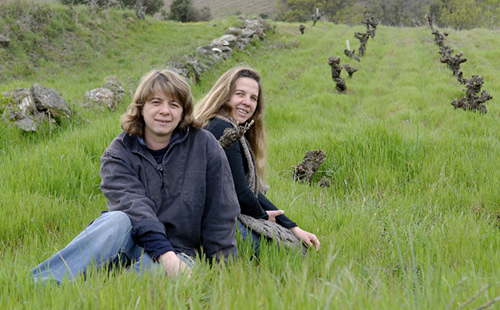 The Andrieus do not plough the soil as they feel that this upsets the natural balance, and that the hot Languedoc sunshine and strong winds would dry the soil out too much if ploughed, leading to erosion of the already thin topsoil. Sunshine is not a problem in this part of the world, but lack of water is, and by not ploughing the family also help to preserve the water in the soil. Grass, flowers and other plants grow naturally, and when the grass is fully grown and starts to seed, they mow it to add organic matter to the soils and seed for the following year.
The family view the vineyard land between farm/grassland, garrigue and forest and are trying to keep their vines in competition without over-stressing them. As Corine Andrieu states: "We have always worked to respect what nature has to offer… Our pleasure is to listen to nature, to watch nature, and to allow her to have the energy and strength to express herself.  For this reason, their vines "grow like any other local plant, in a state that verges on the wild." Meanwhile, it is important to keep a good flow of air through the wines to prevent disease. In 2018, mildew turned out to be a big problem.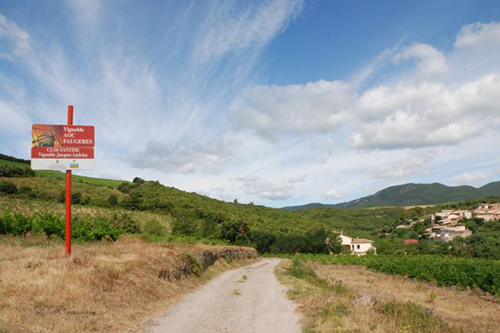 Andrieu's philosophy of smart viticulture extends to cellar work. Using native yeasts is an essential part of vinification. During fermentation, different populations of active yeast work in different parts of the vat, and if you interfere with the natural course of fermentation, this will reduce the complexity of the wine.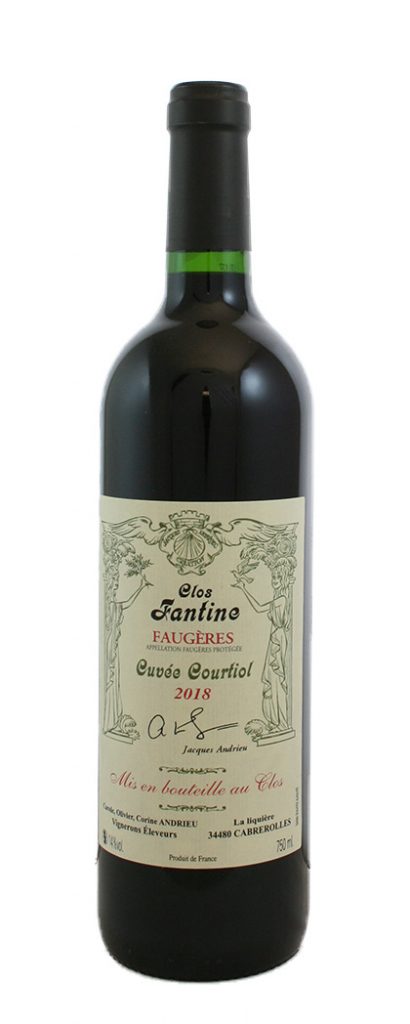 Cuvee Courtiol is a selection of the best grapes of the harvest in each vintage. Usually the blend will feature Carignan (vines are up to 80-years-old), supplemented with a small amount of Grenache. The vines are rooted in the shallow slate (schist) soils. Grapes are harvested by hand (yields are very low) and placed in small boxes, destemmed into cement vats where they undergo a thirty-day maceration and a lengthy fermentation. The wine is aged for 18-24 months in concrete vats, and then for four months in fibreglass-lined tanks before being bottled without filtration, fining or the addition of sulphur.
Drinking this Faugères will make you feel close, or even closer, to nature. This is a crawl on the wild side; the fruit is meaty with game-and-gravy flavours and lots of garrigue notes of bay and roasted thyme and there is pronounced bonfire smokiness on the finish.
2018 Faugères Rouge "Cuvée Courtiol"
*
Interested in finding more about the wines mentioned? Contact us directly:
shop@lescaves.co.uk |  sales@lescaves.co.uk | 01483 538820
*Note: We are still open for business, doing deliveries, and keen to help everyone with their booze needs in this difficult time. Natural wine lovers can visit our online shop and order online!