This is a series profiling the producers on our list who make natural wines. Within this series we will be highlighting some of the extraordinary and rare bottles and vintages that have helped to shape our appreciation of natural wines over the years. Previous posts from our 100 Great Natural Wines series include Austria, Spain, and a hefty chunk of France, and can be found here. 
The Loire has been our natural education and the teachers have been many: Olivier Cousin, whose wines were amongst the first to set us on our journey; Pierre and Catherine Breton; Claude & Etienne Courtois; Thierry Puzelat and Thierry Germain and others. And what can say: we adore Chenin Blanc in all its many forms, and believe that Cab Franc handled with love is a world-class variety. And Pineau d'Aunis, Romorantin, Grolleau Gris, Gamay, Côt, Menu Pineau, planted on the right soils, farmed in the right manner and made with minimal intervention, can make noteworthy and brilliant wines.
Here we move into central Touraine region where we find Chenin on limestone and the greatest and long-lived examples of Cabernet Franc in the world.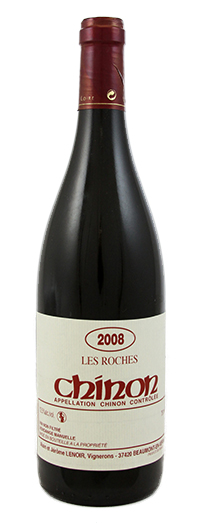 1976 CHINON, DOMAINE LES ROCHES, ALAIN & JEROME LENOIR
Age and beauty
The Chinon appellation lies in the triangle between the Vienne and Loire departments. Famous for its red wines, the vines are planted on tuffeau, the celebrated chalky bedrock of variable hardness. The town of Chinon was the favourite residence of the Plantagenet king, Henry II, and it was in the Great Hall of the Château during the Hundred Years' War that Joan of Arc acknowledged the future king Charles VII.
And, of course, the great Rabelais himself lived within spitting distance of Chinon, the man who once wrote: "When I drink I think; and when I think I drink."
That Jérome Lenoir considers an eight-year-old barrel "new" is a testament to how he and his father before him (and his father before that, and his father before that) made wine (a true family affair beginning in 1900 when Jérome's great-grandfather bought the property), with no concessions to modernity or new styles. The domaine makes only two cuvées, a red Chinon from Cabernet Franc planted on just three hectares of the property, and microscopic amounts of white Chinon from the few rows of Chenin Blanc next to the Cab Franc. Like the wine-making, all the farming is old-school, everything by hand and without chemicals just like it has been done for over 100 years. The majority of the vines in the vineyard are old-growth and new plantings are done with either massale selection (meaning the vines are grafted from cuttings in the same vineyard instead of using clones) or through the use of marcottage (where one branch of a vine is trained into the soil until it starts developing its own root system).
After fermenting in large wooden foudres and tronconique barrels, all the wine undergoes a long elevage in the very old wood, either foudre or bordelaise barrels, for three years and then further aging in bottle before it is released, a result of both an insistence on releasing wines the Lenoirs think are ready, and the frigid temperatures in the cellar which force the wines to mature slowly.
Age before beauty? How about age and beauty? The best Cabernet Franc has a military bearing with ramrod-straight spine and buffed-up fruit. The following venerable specimens have not only stood the test of time, they are still looking optimistically to the future. Stored beautifully in deep-dark underground caves, the wines rest, gathering energy, as if in suspended animation. There is a softening, but not too much – tension is the be-all-and-end-all of these stellar Cab Francs. The example here, Alain & Jerome Lenoir's 1976 Chinon is, to coin an oxymoron, brilliantly impenetrable, stocky without being heavy, with knobbly herb-tinged plum fruit (skins, stones and all) and frank Franc medicinality. If not immortal, certainly tinged with immortality.
Why we love this: An astonishing wine with the vivid perfume of Chinon Cab Franc, yet more muscular (76 was a very hot vintage) with a certain savoury quality. Still many more years on the clock.
If you like this: Patrick Corbineau has four hectares of vines in Candes-Saint-Martin right on the western limits of Touraine. The very pretty village of Candes is on the confluence of the Vienne with the Loire. Most of his vines are Cabernet Franc on limestone clay, although he does have a few ares of Chenin Blanc. He is the first in his family to live solely by making wine – his grandfather practised polyculture. The vines are ploughed by horse, farmed organically, grapes are harvested by hand, vinification is in conical vats. He uses pigeage and the wine is matured in 15 hl foudres for at least 18 months. These are beautifully composed examples of Cabernet Franc with cassis notes mingled with liqueur cherries and the combined impression of equilibrium, fluidity and roundness in the mouth. The Beaulieu is a humble wine, precise, pure, fresh and refreshing, a wine that is a constant gentle reminder that wines don't have to be powerful to be beautiful. Patrick's wines age forever also; we are still receiving vintages which are 25-30 years old.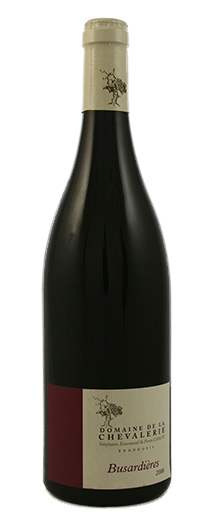 1972 BOURGUEUIL BUSARDIERES, DOMAINE DE LA CHEVALERIE
Standing the test of time
The Caslot family have been farming their domaine of thirty-three hectares since 1640 from their farmhouse which sits on the hill overlooking the vines in the heart of the superb terroir of Restigné. As you enter the courtyard a dark tunnel leads you down to the huge family cellar where you'll see row upon row of unlabelled pleasure. These are the massive tuffeau cellars carved into the slopes, their unvarying temperatures providing a perfect haven for the conservation and ennoblement of fine wines.
Made from Cabernet Franc grapes, the typical Caslot Bourgueil is a delightful fresh, yet intense, wine with a floral bouquet and flavours of raspberry and blackberry. They make several cuvées of varying degrees of intensity and complexity from different soils. Vineyards are situated on a variety of terroirs ranging from lighter sand and silica-clay soils and from the younger vines on these terroirs to those rich in clay and limestone. The Caslots are intent on ensuring that these soils are alive with a variety of fauna and flora, which contribute to making the vine stronger and able to defend itself. Their vineyard programme also includes massale selection in order to promote biodiversity at the intra-varietal level, pruning Guyot Poussard method to respect the flow of the sap, debudding for controlled yields and a fine aeration of the bunches, phytotherapy (herbal plant remedies) in order to minimise sulphur and copper treatments, biodynamic preparations to encourage plant growth in harmony with the environment and allowing grass to grow and sowing cereals and vegetables to promote the structure of the soil and finally the addition of biodynamic compost to bring gradual and balanced organic matter to the soil.
Maturity is sought and everything is done by hand and meticulously sorted. Vinification is respectful of the quality of the grapes with natural yeasts, gentle maceration and cool fermentation and the wines are matured in a mix of demi-muids and large containers. All activities are done in accordance with the lunar calendar. Just a small amount of sulphur is used.
Busardières is a magnificent parcel of clay and limestone that overhangs the valley. These old vines surrender great quality fruit that makes for rich and very long-lived wines.
1972 was not renowned as a vintage of the stars, I expected this 42 year old Cab Franc (as it was at the time), to be, if not at the seventh stage of decrepitude – (i.e. second childishness and mere oblivion, sans teeth, sans eyes, sans taste, sans everything) certainly on the downward slide towards mortality:
With shrunk shank, and his big manly voice,
Turning again toward childish treble, pipes
And whistles in his sound
Yet, the reality was different. The wine was dark, bold and spicy with hints of beef stock. I thought that the air in the decanter might reduce its contents to caramel, but lo and behold, the wine not only survived for hours, it began to acquire a density and tannic structure. To be drunk with shank of lamb, shrunk or otherwise.
Why we love this: The longevity of old-fashioned Cab Franc. Even in the lesser vintages, the wine has the capacity to surprise. We are never disappointed by the Chevalerie wines; each cuvée is a beautiful and precise expression of terroir and vintage.
If you like this: Then the Bourgueils from Domaine Breton deserve a look. The Bretons (the perfect name for Cabernet Franc specialists) are based just north of Restigné. They live in an old but well restored farmhouse with adjacent cellars, surrounded by the vines of the Galichets vineyard. Les Galichets is but one part of their domaine, however, as the pair have about 10.5 hectares of vineyards to their name, including Les Perrières and Clos Sénéchal in Bourgueil, as well as vines in Chinon. The Breton philosophy stems, in their own words, from a love of the land. The vineyards see ultra-intense organic care, no mean feat in this northerly clime; they avoid chemical fertilisers and weedkillers, restrict yields to something like 40-45 hl/ha (although some cuvées are below 35 hl/ha) and harvest by hand. Once the grapes have arrived at the cellars they are fermented according to terroir, with those from gravelly soils going into stainless steel, whereas those from clay-limestone vineyards are fermented in old oak vats. The Bretons use indigenous yeasts and their desire for "natural" winemaking comes through strong in their resistance to the use of sulphur, with typically just 10 mg/l added at bottling to many cuvées, although some are bottled without any sulphur at all. Bourgueil Les Perrières, from very low yields, is fermented and aged in barrel for a lengthy period. Delicate aromas of chalky cassis and redcurrant, very floral and mineral with black pepper and earth notes. The palate is silky with soft chalky tannins enveloped by berry fruits, earth, musk and mineral flavours. The finish is long, elegant and intriguing. A wine to age definitely.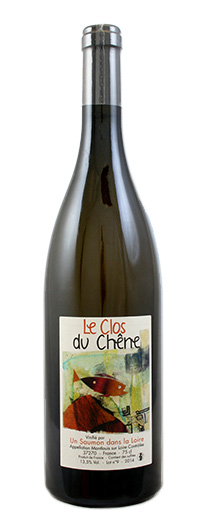 MONTLOUIS CLOS DU CHENE, DOMAINE FRANTZ SAUMON
Un saumon dans la Loire
Frantz Saumon established his domaine in Montlouis-sur-Loire in 2002, after a few stints as a forester here (in France) and there (in Canada), and a stage with the late Christian Chaussard of Domaine le Briseau, an influential voice in the "vin naturel" world. He has always practiced organic/biodynamic agriculture and raises his wines in a variety of fibreglass and stainless-steel tanks as well as wood vessels of different sizes. All wines are fermented naturally here – from a little organically-farmed Sauvignon, to various versions of Montlouis, pet nats and a rosé. The poor quality of recent vintages has necessitated certain rationalisation and the need to purchase (organic grapes) to bulk out the production, but the ethos always remains the same. Frantz's winemaking style is about purity and wines driven on a seam of acidity, whilst retained ripe fruit character.
In Montlouis, Frantz works with different Chenin vineyards with a variety of soils. Clos du Chêne, which is bottled as a single-vineyard cuvée when the vintage permits, is all tuffeau, a very hard limestone found in the valley, with very little clay topsoil. All other Chenin parcels are either clay over limestone, clay with silex, or clay with broken down limestone.
The vineyards average between 20 and 50 years old, with Clos du Chene being the exception, consisting of vines that are between 70 to 100 years old.
Mineral Plus, made every year, is a blend of different terroirs to represent the vintage in Montlouis as a whole. Always fresh and vibrant, the last vintages have all been dry and weightless with notes of citrus zest (grapefruit) and the minerals mentioned in the title. Clos du Chene is a deeper wine from a parcel of old vines planted in clay and limestone soils. He makes this only in great years, otherwise it is blended into Mineral Plus.
Why we love this: Hugely impressive, austere in its youth with the capacity to age 20 + years.
If you like this: Montlouis Le Volagré is a wine made by the late great Stéphane Cossais on his wee domaine that covered around three hectares of densely-planted Chenin (between 15-85 years old). Stephane always sought physiological equilibrium in the grapes no matter the vintage and did this by focusing on low yields, organic farming methods, a regime of "travail du sol" leading to the development of a deep root system and enhances natural fertility. Fermented in barrels (small proportion of new oak at ambient temperature) these ripe grapes yield a rich wine, prone to showing the influence of oak in its youth, but absorbing into the warp and weft after ten years, where it reveals aromas and flavours of green figs, apple, pear and marmalade with classic marzipan back notes. Marvellous purity here – it feels like you are sucking the pure terrain through your teeth.
*
Interested in finding more about the wines mentioned? Contact us directly:
shop@lescaves.co.uk |  sales@lescaves.co.uk | 01483 538820
*Note: We are still open for business, doing deliveries, and keen to help everyone with their booze needs in this difficult time. Natural wine lovers can visit our online shop and order online!