A roll call of what's rocked in over the last few weeks.
German Weiss Squad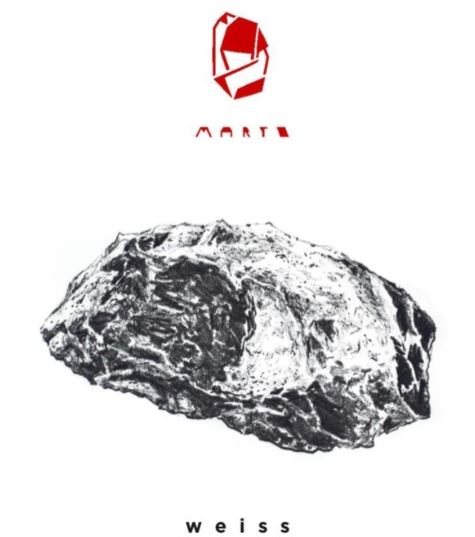 Young Martin Woerner is probably tired of people calling him young Martin Woerner. He, and his small operation called Marto Wine, is based in Rheinhessen with organically-farmed vines on sandstone soils. Martin previously staged with Tom Lubbe at Matassa and Steph and Eddie at Gut Oggau in Burgenland. With a tiny production, 2017 was his maiden vintage, and he furnished us with our first natural German wines. 2018 is the follow-up vintage. And what delicious wines they are! The so-called Weiss is loud with cloudiness, light amber-hued, an old-vines field blend of various grapes such as Müller-Thurgau, Faber, Bacchus and Sylvaner, whole bunch co-fermented and aged in big old foudres. It takes the pith, big time – you can practically chew the minerals in this wine. For those crave #attentiontotension we also have his taut Riesling.
2018 Marto Weiss
My heart's in the Hyland

Those who follow this blog need little introduction to Kelley Fox. She singlehandedly makes some of the brilliantly alive, eloquent (and occasionally shy) Pinot Noirs that undeniably capture the voices of their respective vineyards and the nature of the vintage in question. She sees herself very much as an enabler, a midwife, never putting the winemaker's ego before the grapes and the grape juice.
Hyland Vineyard in northern Willamette, planted in 1971 by four families is one of Oregon's oldest vineyards in the foothills of the Coastal Range in McMinnville AVA. Cooler in the summer, warmer in the winter, it experiences a long ripening period without the extremes of elsewhere. The vines plunge their feet into volcanic jory soils (similar to Dundee Hills) and tended biodynamically. This is from the Coury Clone of Pinot, supposedly a suitcase clone called Clone 538 which was smuggled back from Colmar in Alsace when Charles Coury was researching. Despite much research into the origins of the clone, there is no official line. The character of the Coury Clone seems to tend to darker, more purple fruited expression of Pinot Noir. This wine certainly has those characteristics. It has a pure nose of red berries (raspberries and strawberries) with a certain coolness. It is complex with a velvety frame and nimble, age-worthy acidity typical of Hyland Vineyard.
2017 Kelley Fox Hyland Pinot Noir
Vox Populis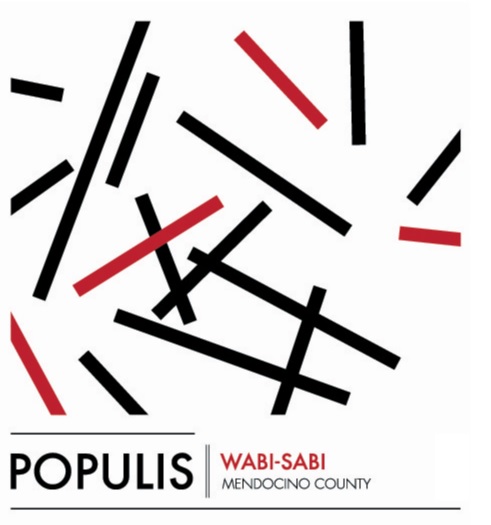 Populis is the lovechild of three winemaking school friends, Diego Roig, Sam Baron, and Shaunt Oungoulian, born from the desire to make light-hearted, natural-tasting, extremely drinkable wines from exciting vineyard sites throughout California. This collective brotherhood partners farmers who dry-farm organically, usually historic, old-vine vineyards.
The blend for Wabi-Sabi red changes every year. In 2018 vintage it comprises three varieties (Carignane, Zinfandel and Syrah) and hails from some of their favourite vineyard sites in Mendocino County, planted on a mixture of sandstone, shale and quartz, deep, well drained soils formed from alluvial flows, which deposited fist-sized stones.
Each component of this blend is made with the intention of creating a dynamic blend meant to enhance the character of each individual variety.  Partial whole cluster is used for structure and tannin, partially destemmed grapes for mid-palate depth, some free run juice for brightness and lift; this wine has a bit of everything. All native yeast ferments, all ambient, no filtration and no fining. There's loads of fruit, a dusting of spice and herbs, a touch of smoke – a drinkable wine with plenty of angles.
2018 Wabi-Sabi Red
Spare Ribeyrenc?
Ribeyrenc, also Rybeyrenc, though grape encyclopaediae will have it under the more prosaic-sounding Aspiran), is a variety that was traditionally grown between Minervois and Clermont l'Hérault, but all but died out with phylloxera and the big frost of 1956. All was not lost, however, as Thierry Navarre's grandfather had some vines. The cultivar is well adapted to the Mediterranean climate, and intriguingly, it ripens late being picked towards the end of September, usually a recipe for high alcohol, but in this case always a light abv of around 11.5-12%.
Once upon a time the vineyards of the Languedoc essentially comprised one third Ribeyrenc, one third Oeillade and one third Picpoul. Although we think of them as natives, Carignan and Grenache Noir arrived from Spain in the 19th century, and were planted after phylloxera.
Only 7 ha remain in the Languedoc and three vignerons there still work with Ribeyrenc, namely Patricia Domergue at Clos Centeilles, François Henri in St. Georges d'Orques and Thierry Navarre. Thierry himself owns just 1.75 ha and makes around 2,000 bottles a year!   His pure version derives from vines on south-east facing slopes on slate (brown schist). Yields are a measly 17 hl/ha, farming is organic with herbal preparations. Triage is done in the vineyard and the winery. Thierry does not destem as the skin of the grapes is so thin and fragile. The grapes gently fall into the small cement vats where they ferment. Ageing in cement vats is for 6 months. No oak, naturally.
The wine itself is enchantingly demure. The colour is pale red, the nose has some light perfume (violets and peonies), the palate is very mellow, with some fresh cherry fruit and the merest whisper of garrigue and white pepper. It's delicious and takes longer to pronounce than to drink.
2018 VdF Ribeyrenc Noir
Pre-Nouveau Nouveau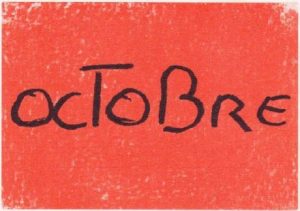 Jean-François Nicq took over the Domaine des Foulards Rouge in 2002. It was then ten hectares and he planted a further two on beautiful schist and gneiss (very gneiss) slopes. In his first year he began the conversion to organic viticulture. In his previous job he vinified the wines at the co-op in the Cotes du Rhone (Estezargues) where he worked without sulphur and maintained this practice of natural winemaking at Foulards for his first vintage.
The terroir is Les Albères in the Pyrenees-Orientales, 10km from the sea and Collioure. The nor-nor –east exposition of the vines compounds this character and finally the soils which make up this ancient granitic area bequeath a delicacy and elegance to the wines.
Jean-François works in a straightforward way. Grapes are manually harvested and undergo a ten-day carbonic maceration at low temperature before spending one month in a 500-litre oak barrel. No filtration, no fining – no sulphur added either. Bottled on 15th October
Octobre is so fresh that it never even made it into its nappies. The wine tastes like someone plucked some red grapes off a vine, squeezed them straight into the bottle with a prayer (or an order) "Funk you". The sort of wine that should be prescribed by doctors. Glou-juice to the nth degree.
2019 VdF Octobre
Pit-a-Patapon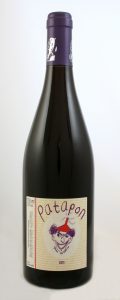 Aunis gov, you've got the try this wine. Show me a wine connoisseur who heart doesn't got pit-a-patapon for Pineau d'Aunis. But whereas many versions of this grape appear in blends or pet nats, a few growers have begun to exalt its unique charms and vinify it with a degree of seriousness. Emile Heredia's magnificent old vines "Le Verre des Poètes", is one to seek out.
Domaine Le Briseau was originally set up and run by Christian Chaussard, a great vigneron, and one of the main exponents of natural winemaking in the Loire, alongside Nathalie Gaubicher who was responsible for the commercial side of the business. Christian died in 2012, and Nathalie was plunged into the deep end, having to learn about farming and winemaking. In this endeavour she was initially supported by other farmers and producers in the region. Eventually, she married Emilie Heredia (a.k.a. the Pope of Pineau d'Aunis – these popes are allowed to marry, by the way) and they are joint-vigneron(ne)s.
The farming is top-notch sans pesticides, herbicides, insecticides or chemical fertilizers. Nettle and horsetail decoctions are sprayed on the foliage; copper is used in modest quantity (less than 5kg/ha); the vines are ploughed and grass allowed to grow between the rows. Grapes are manually harvested, all reds undergo semi-carbonic maceration and nothing is added, maybe a little sulphur sometimes.
Brilliantly purple, a distillation of red berry aromas and flavours. The nose is warm, approachable and deliciously savoury showing a combination of crunchy strawberry, sweet beet and black pepper fruit, backed up by delicate smokiness. The palate is dry and taut with a sweet wild strawberry character, and a little chalky perfume. There is an appealing freshness to it, and a lovely peppery finish with firm chalky tannins.
2018 VdF Patapon Rouge
Montsanta Clauses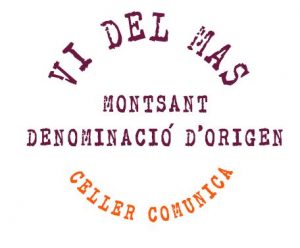 Celler Comunica is located in the town of Falset, 370 metres above sea level in a dry, Mediterranean climate. The vineyard age ranges from 25-75 years. Patri Morillo and Pep Aguilar – the winemaking team known as "Ya Le Llamaremos" ("we'll call you") were not born into the world of wine. They did find it though, and with great passion over the past six years, they have been helping small families around the Mediterranean with their winemaking aspirations. "Comunica" ("speak to me") is their own project. The common wine style in Montsant has been chasing Priorats'; the moniker which refers to Montsant as 'the poor man's Priorat' is a misnomer that Pep & Patri have handily dispensed with. By leaving the wine unoaked, they have left us with the salient details in a wine: the soil, the fruit and the vintage. Most of the fruit comes from Mas d'en Cosme, an estate with mainly granitic soils.
The Pua Blanco is a brisk tank-fermented homage to Garnacha with the Blanco, Peluda and Grey versions, grown on a mix of granite and limestone clay, combining to produce a white with clean crisp fruit, notes of flowers, and shell-flecked citrus.
Vi dal Mas is a blend of 60% Garnacha Tinta, 15% Garnacha Peluda, 5% Grey Garnacha and 20% Syrah from organically-grown vines on limestone clay and granitic sand. 60% of the grapes are destemmed and the wine ferments with native yeasts in tank for 5-6 days. It packs more a punch than you would imagine with strong red fruit character balanced by freshness and the classic flinty reduction. A real buck-banger by any standard.
2018 Celler Comunica Blanco La Pua
2018 Celler Comunica Montsant Vi del Mas
*
Interested in finding more about the wines mentioned? Contact us directly:
shop@lescaves.co.uk |  sales@lescaves.co.uk | 01483 538820