What is pink? a rose is pink
By a fountain's brink.
What is red? a poppy's red
In its barley bed.
What is blue? the sky is blue
Where the clouds float thro'.
What is white? a swan is white
Sailing in the light.
What is yellow? pears are yellow,
Rich and ripe and mellow.
What is green? the grass is green,
With small flowers between.
What is violet? clouds are violet
In the summer twilight.
What is orange? Why, an orange,
Just an orange!
*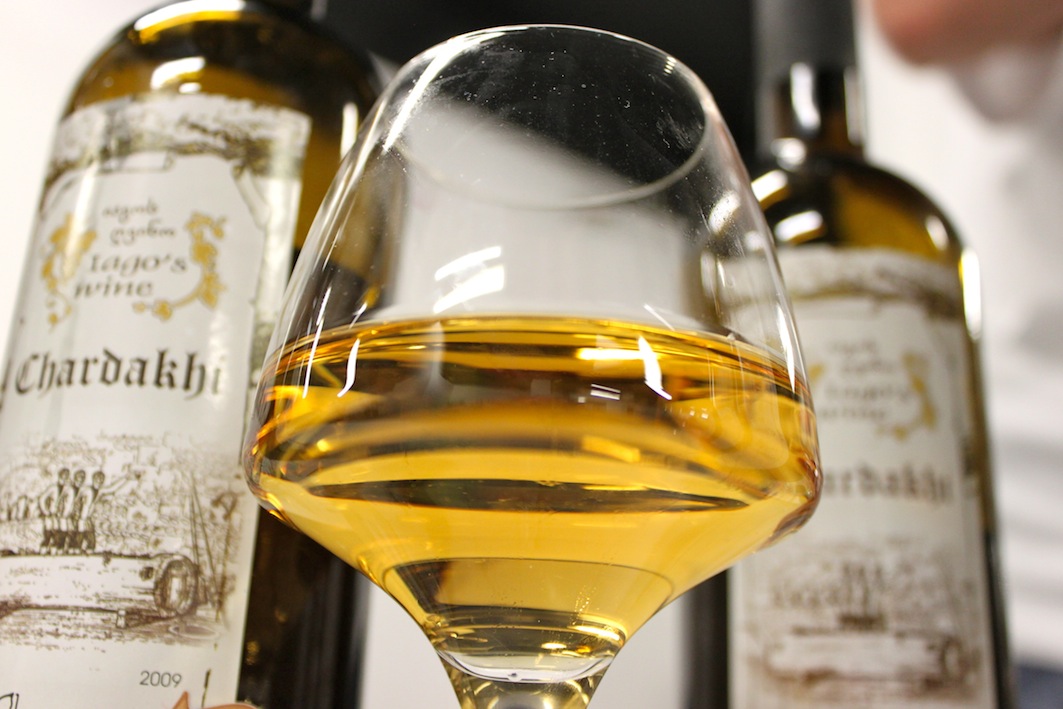 I love skin contact wines. To me they offer something different in terms of the experience of the wine. They can be wholesome, nourishing, filling the mouth in a unique way, unveiling textural complexity and subtle tonal shifts. For some growers the wines implicitly contain the message of terroir; for others the process of maceration leads to a gradual extraction of flavour fortifying the wine for a longer journey in life. Finally, making a wine on its skins gives it the wherewithal to survive without chemical manipulations – many orange wines are happily made without the addition of sulphur and are all-the-more alive because of it.
The maceration process confers shape and tannic structure. Interestingly, if you taste the wines blind and at different temperatures you might easily mistake them for reds. However, like other wines, skin contact wines may be made in various ways – some growers will, for example, destem the grapes, whilst others prefer to use whole bunches. Some will vinify in a slow oxidative fashion, others use carbonic maceration. Oak, clay or cement are preferred mediums to ferment and age (allowing micro-oxygenation) but stainless tanks are sometimes employed. Macerations may range anywhere from three days to two years. Growers will usually treat each grape variety according to its innate properties – for Princic, Pinot Grigio merits only seven days on skins, whilst the thicker-skinned Ribolla Gialla requires a 25-day maceration.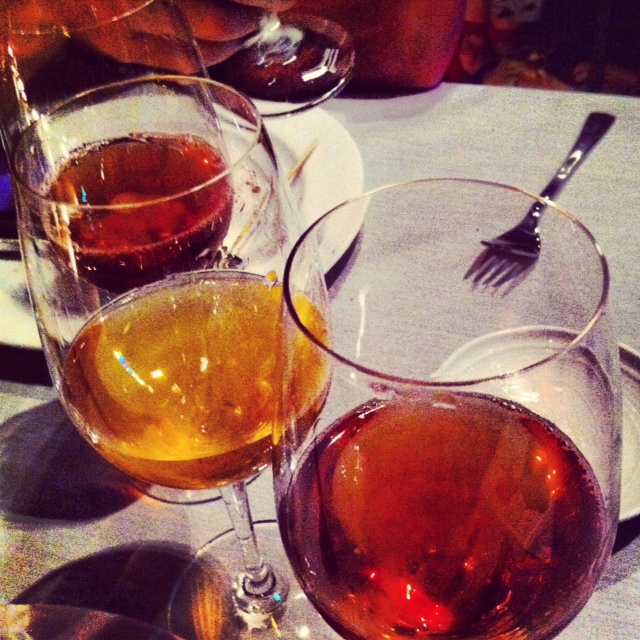 Nor is the colour of the resultant wine always orange, but may span a spectrum of hues ranging from burnt amber and deep bronze through to orangey-pink and light gold.
Recent articles bruiting a new trend for orange wines have thoroughly missed the point. Anything which is trendy per se has no real traction and usually designed to appeal to those who are impressed by novelty for novelty's sake, will thus be ephemeral. Skin-contact wines have deeper roots with their origins in ancient wine history and winemaking culture.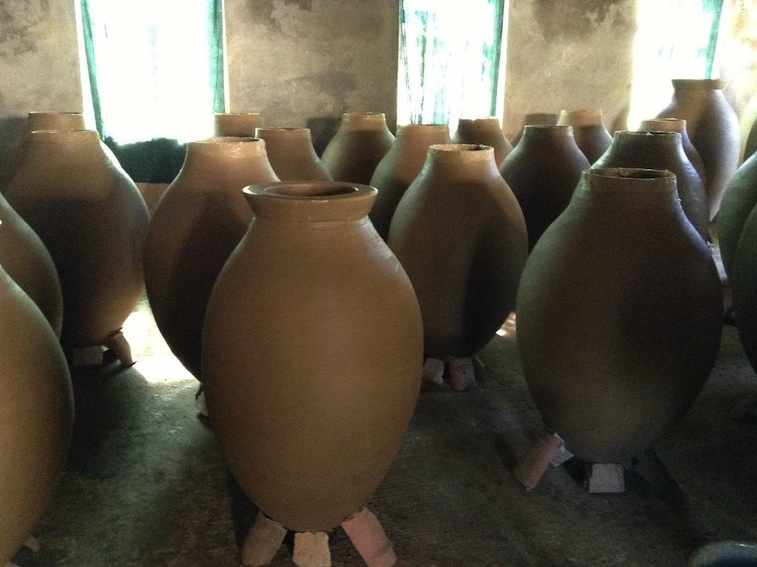 In Georgia these wines are the norm as they have been for hundreds and even thousands of years. Everything about skin contact wines has a deeper symbolic resonance in this country – the skins, stalks, pips are considered part of the grape and therefore part of the wine itself. Whilst the wine is being born (fermentation/ transformation) the skins and rest of the marc are still imbuing it with strength and character. When they have achieved their raisin d'etre (sic) they sink to the bottom of the clay vessel and the wine is transferred to a new qvevri to be put on its feet. There is no differentiation between white or red or orange – there is wine.
We see the similar idea with certain Italian vignerons who, by fermenting slowly and for a long time on the skins, make strong wines with grand ageing potential. These wines are only released when they have found their equilibrium: La Stoppa's Ageno, Dinavolino, Bressan's Verduzzo, Princic's Ribolla, Massa Vecchia's Ariento and Vodopivec's Vitovska will be aged for six to seven years before release. Of course it's possible to make orange wines without the need for lengthy maturation. The versions from Matassa, Testalonga, Arianna Occhipinti and Bernabe Navarro, for example, offset exuberant aromatics with pleasant bitterness and striking minerality. Skin contact is always about using the whole grape that nature has ripened rather than discarding significant agents of flavour.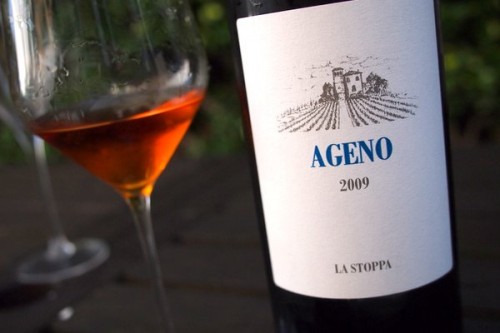 Whether or not you subscribe to such notions the colour orange has great vitality. I've witnessed the reactions of people in restaurants and bars, a combination of surprise and elation, as the light catches the wine when it is tumbles into their glasses. This beautiful shimmering colour generates expectation (one way or another!), and provokes keen interest. For we drink with our eyes also. Orange is commonly associated with amusement, the unconventional, extroverts, warmth, fire, energy, activity, danger, taste and aroma. Mythological paintings traditionally showed Bacchus, the god of wine, ritual madness and ecstasy, dressed in orange. Many orange wines are a potent pleasing cocktail of wild aromatics, warm energy and mucho mirth.
Symbolic Significance of Orange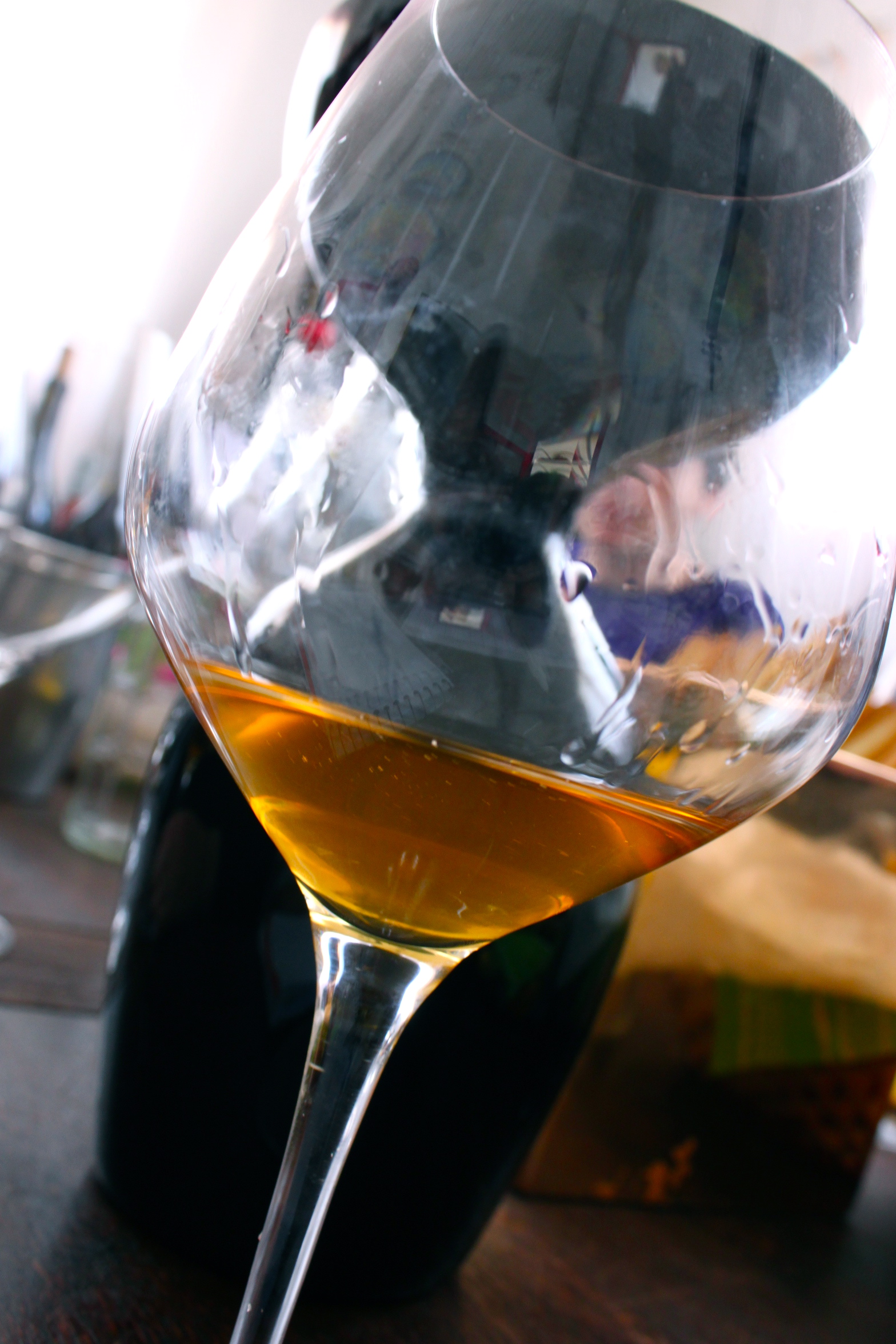 *Orange combines the energy of red and the happiness of yellow. It is associated with joy, sunshine, and tropics.
*Orange represents enthusiasm, fascination, happiness, creativity, determination, attraction, success, encouragement, and stimulation.
*To the eye, orange is seen as a very hot colour, so it gives the sensation of heat.
* Orange increases oxygen supply to the brain, produces an invigorating effect, and stimulates mental activity. It is known to appeal to young people.
*As a citrus colour, orange is associated with healthy food and stimulates appetite.
*Orange is the colour of autumn and harvest.
*In heraldry, orange is symbolic of strength and endurance.
Association is crucial when we experience wine. We know that aromas unlock memory. Colour is also a considerable stimulant. Orange is the most explosive of the colours in this regard.
For all this I am not predisposed to love a wine by virtue of its colour or because it is made with skin contact. And those who have experimented with orange wines without understanding the process do no service to the wines.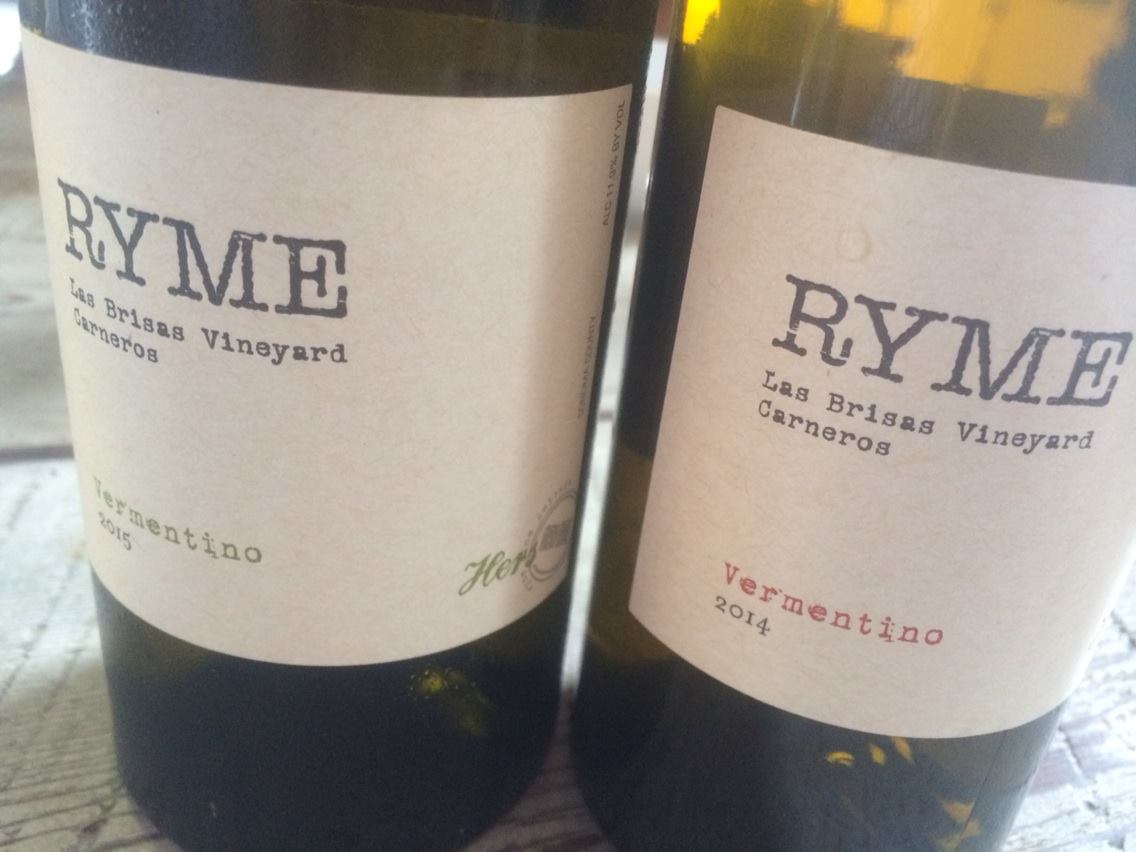 At Ryme Cellars in California Megan and Ryan Glaab make two versions of their excellent Vermentino, one called "Hers", the others, "His". The former consists of free run juice, bright, fresh, zingy and limey; the latter, a skin contact wine, is amber in colour, and altogether weightier with notes of orchard fruit and spice. Both are excellent expressions of the potential of the grape; both reflect different moods and different mindsets. This is where the wine world is always more complex than the headline story about what is trending. Skin contact wines reflect specific winemaking choices; many are beautiful and extraordinary and it's important that vignerons continue to make these wines and discover the potential of the grapes and their vines rather than feel that they have to appeal to fashionistas.