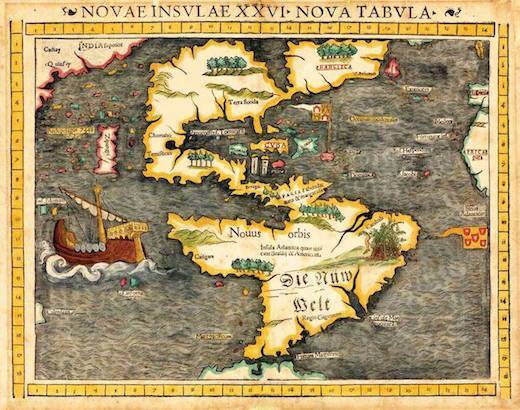 We've just discovered America (with respect to its native American population). A little late it has to be said. Certainly, after Zuan Chabotto (c.1450-99), the Venetian navigator and explorer. His claim turns on the fact that Columbus did not reach the American mainland until 1498, while he touched the North American shore a full year earlier. That he had set sail from England caused him to be remembered in the Anglophone world as John Cabot and shifted bragging rights from Venice to the 'Sceptred Isle'. Then it turned out that, while Cabot found investors in Bristol and received a patent from Henry VII, his principal financial backer was an Italian banking house in London.
Or we could go back further to the adventurer Leif Ericson (970-1020), son of Eric the Red (c.950-1003), who had discovered Greenland and entered the history books for his sighting of Vinland in about 1000. True, one saga from 1387 states that a certain Bjarni, Son of Herjulf, had beaten Leif to Vinland, having been blown off course and sighted land there as early as 985-6. But no further support for the Bjarni claim has turned up.
And if you're being really clever-cloggsy you could assert the claims of Abu Raihan al-Biruni, born in 973 near the Aral Sea in what is now Uzbekistan, an Islamic scholar who mastered mathematics, astronomy, mineralogy, geography, cartography, geometry and trigonometry. In his Codex Masudicus Biruni considered the possibility that the sun is stationary and that the earth revolves around it. He stopped short of fully embracing a heliocentric view, noting instead that the notion of a heliocentric universe is no less logical than its alternative and called on mathematicians and astronomers either to refute it or accept it. It is no wonder that historians of science judge the Codex Masudicus to be the greatest work on astronomy from the period between late antiquity and the modern era. In his codex Biruni also hypothesised about the existence of North and South America. So there.
Anyhoo, in 2015, Les Caves de Pyrene well-and-truly discovered America. And here was a wine tasting to prove it.
After seven hours of slurping and note-taking this much we know.
There is an Oregon micro-revolution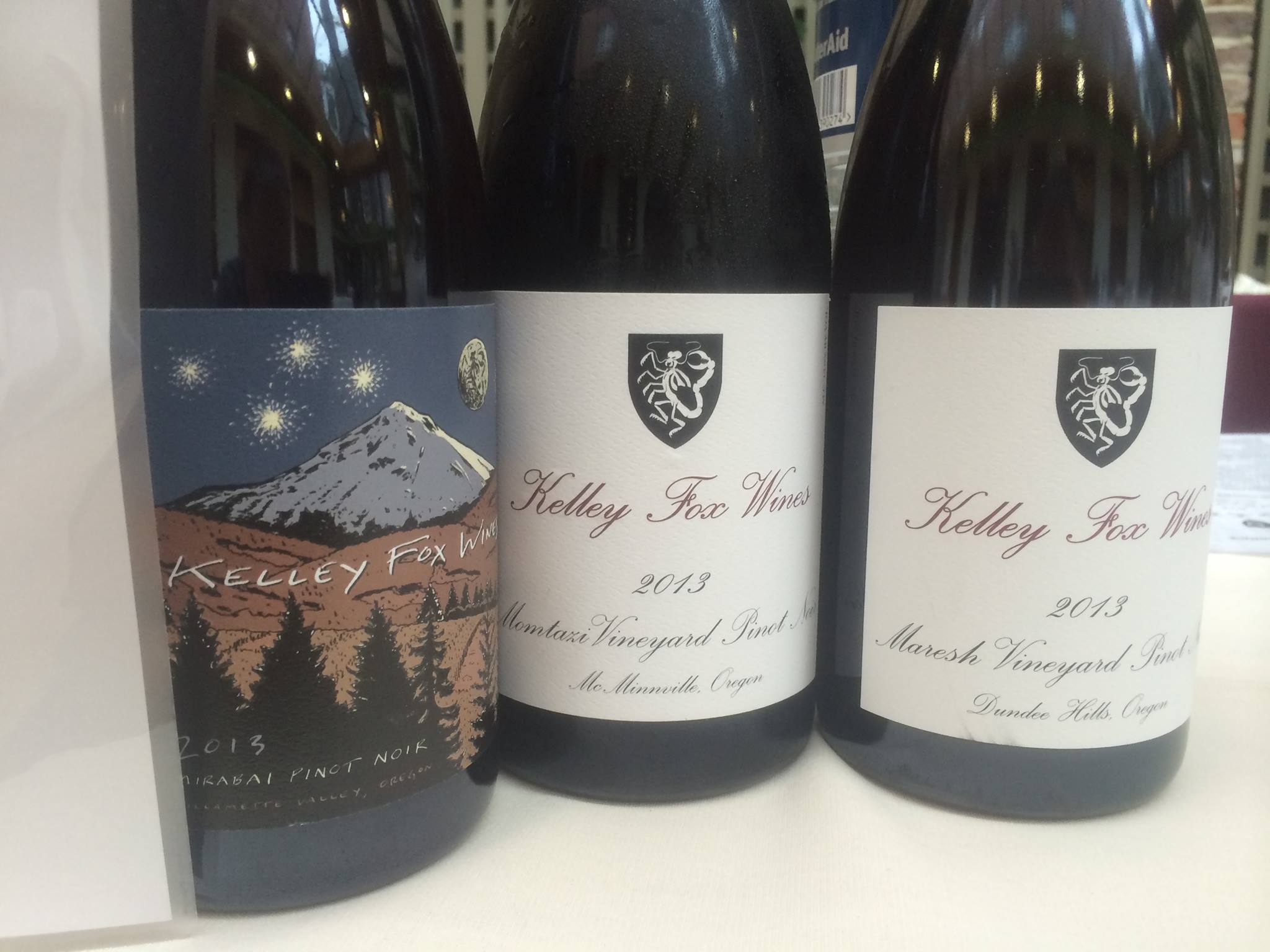 A thimbleful for your wines, sir. Portland – microbreweries, microdistilleries and microwineries. My Oregon peregrinations in early summer revealed that here was a region still fixated on a single grape – Pinot Noir. Whilst there are brilliant practitioners of the variety (take a modest bow, Kelley Fox) and whose wines are truly rooted in place (and look to the sky), it is equally fair to suggest that the majority of wines produced from this grape are architecturally stolid rather than ethereal and vivacious. Apply the microscope elsewhere in Oregon and one may discern the glimmerings of new life forms: those marginal (and marginalised) vignerons, each bringing something different to their wines from a sense of playful adventure to a strong vocational connection, from the knowledge and passion of the cultural historian to the desire to discover to link interesting grapes to extraordinary terroirs.
Variety is the spice of grapes
The N.E.W. USA is ABC – anything but Chardonnay (or Cabernet). Up to a point, Lord Copper. One of the wines at the tasting contained 76% old vines Chardonnay from volcanic terroir and a red blend had a sneaky 20% Cab Sauv lurkin' neath the Syrah. Still, nobody's perfect.
Snapperuppers of unconsidered grape oddities at our tasting would have enjoyed the juxtaposition of Albarino and a rara avis/hen's tooth variety, Alvarelhão (a red grape unknown even in its native land). Otherwise unusual suspects appeared mob-handed– four amphora wines (2 from Ambyth, 2 from Beckham), two rosés – one from a Portuguese grape quartet – a brace of Semillons, Forlorn Hope's version green and steely compared to Jeff Vejr's more luscious and peachy Golden Cluster, a pair of Gewurzs, three delicious Cinsaults, Blaufrankisch, Gruner Veltliner, Mourvedre, Nebbiolo…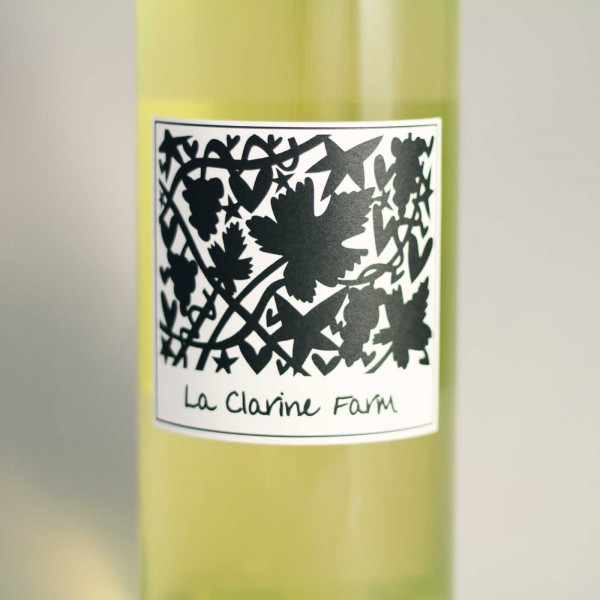 Then are the blends. These can be frolicsome mash-ups such as Hank Beckmeyers's aptly named Jambalaia white and Jambalaia red – field blends of whites and reds in odds and sods fractions. The wines are fresh and fun. Hank's Piedi Grandi sees Nebbiolo, Mourvedre and Syrah yoked together to good effect, whilst Ambyth's Phillip Hart pairs Sangiovese with Tempranillo. It's all about the grapes and the farming – good juice, non-interventionist winemaking.
Kelley's heroines are her vineyards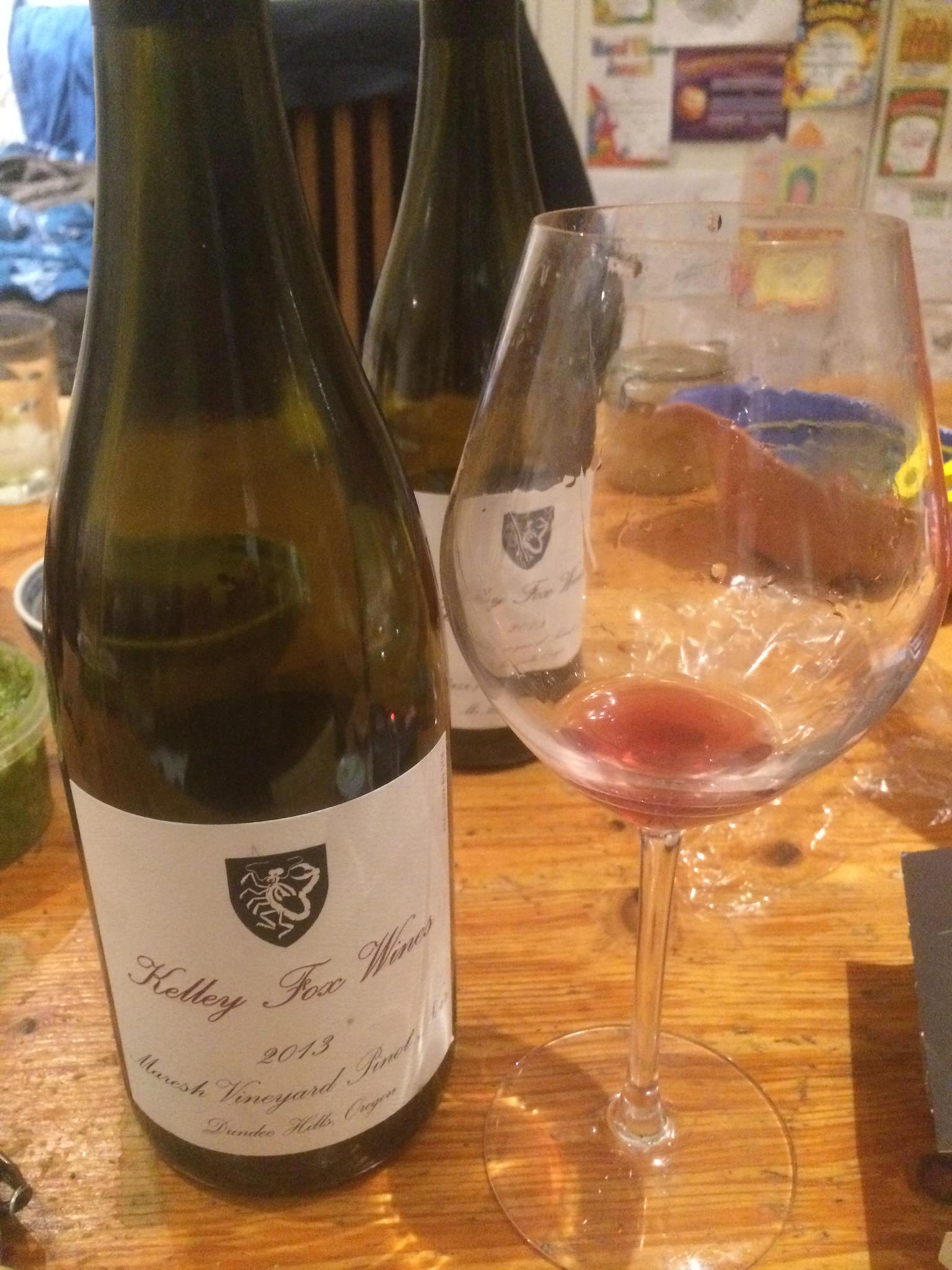 These wines possess… serenity. Pouring the Mirabai it was shimmering ruby, red fruits and s, weightless and silken. Momtazi lifted and energy, Maresh deep, earthy, medicinal. For many present the wines were bright, tonic with that indefinable inner life. And the wines are beautiful. Not in the sense of being conventionally pretty. Their feet (particularly in Maresh) stand in the volcanic red clay soils after all, but in the more provocative sense of the word. They challenge, they elicit a reaction, they connect you to different places. For me they call to mind the passage in Lines A Few Miles Above Tintern Abbey where the poet Wordsworth is dimly conscious of an animating presence that makes sense of his surroundings.
And I have felt
A presence that disturbs me with the joy
Of elevated thoughts; a sense sublime
Of something far more deeply interfused,
Whose dwelling is the light of setting suns,
And the round ocean and the living air,
And the blue sky, and in the mind of man 
There's more. The wines are free. They have their light and their dark, their inner seams and outer delineations. They are strong without being heavy – and above all, they need time, their time. 
There's life beyond oakily-dokily-ness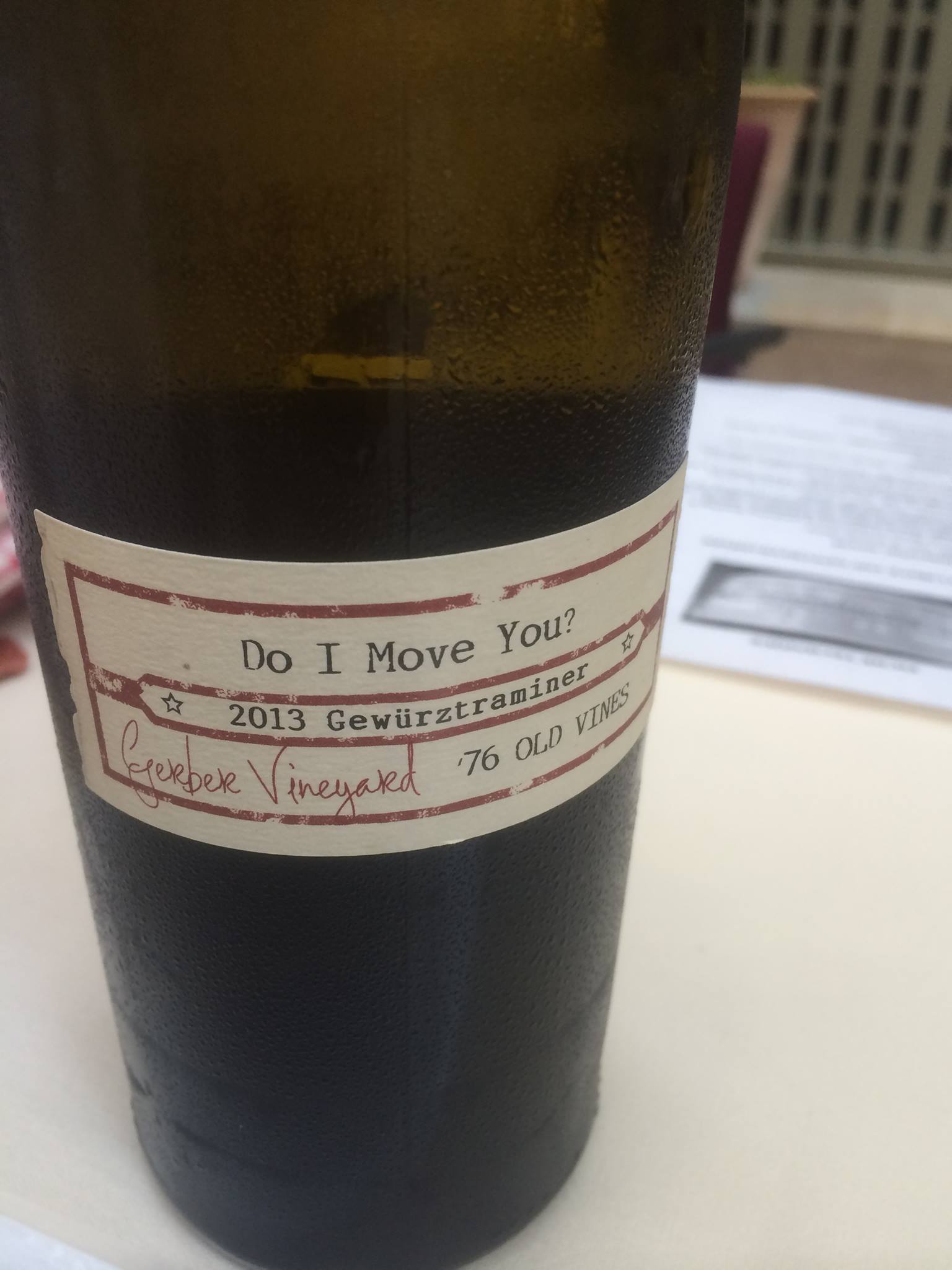 Many a wine from the Napa or Sonoma or Willamette are never knowingly underextracted. Bigger is viewed as better, as if the higher you turn up the volume on your sound system the more you will be able to hear the music. Often the wine itself is lying (crushed) under a thick veneer of wood, new wood at that, thick with toast and jam. Oak is certainly not inimical to great wine; it can be a sympathetic vessel, a breathing medium and confer beautiful textural complexity to the wine during the period of the wine's transformation. The Clos Saron wines, for instance, enjoying their long, slow ambient elevage, felt natural as if utterly at ease with themselves, yet also exemplified the concept of the iron fist in the velvet glove, retaining a firm core of minerals within the fruit flesh. Ovum's Do I Move You Gewurztraminer, fermented for seven months in large old barrels, tasted aromatically complete and unified as if each element of the wine had been in contact with every other part.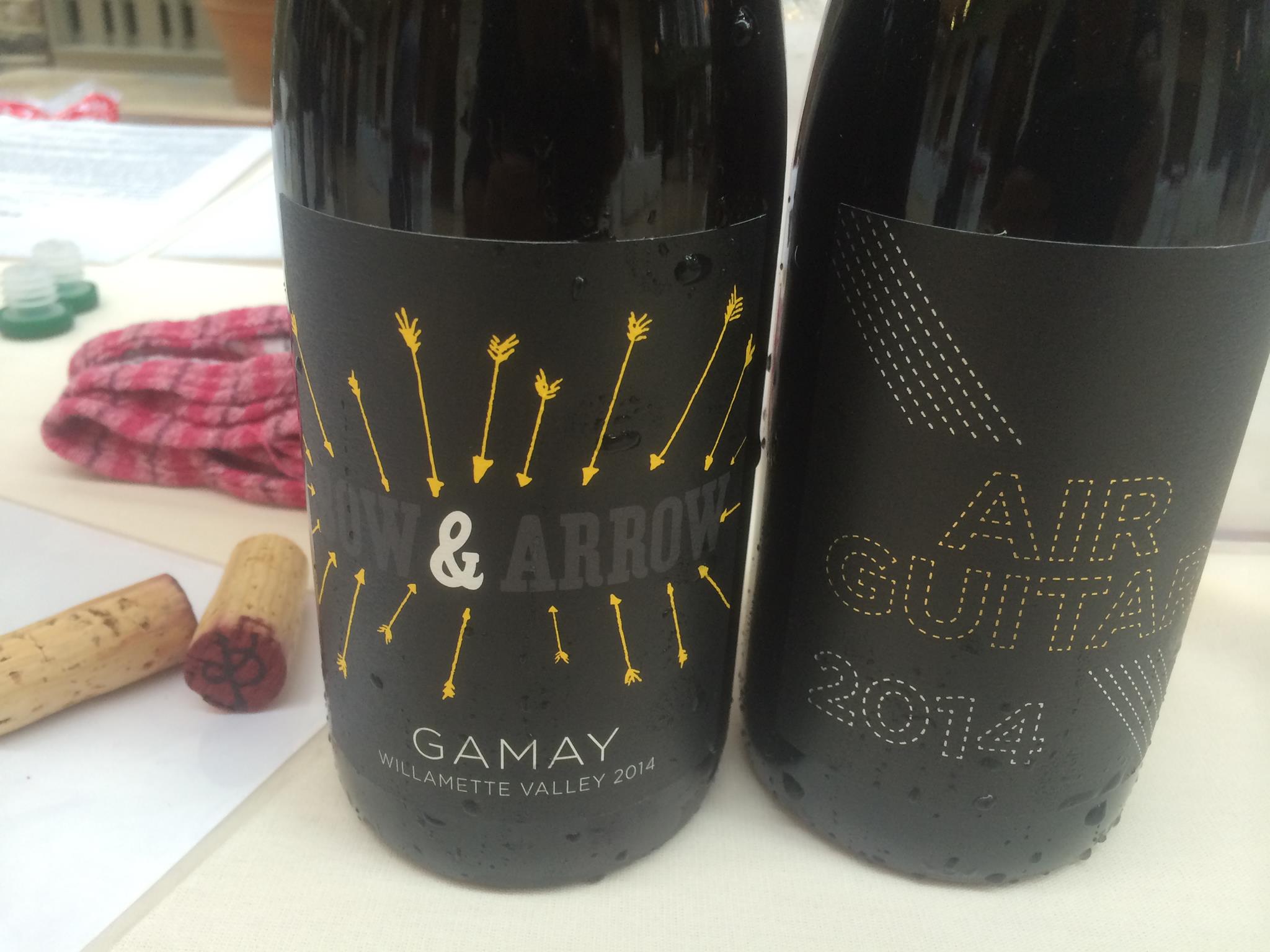 Scott Frank's Bow & Arrow reds were crunchy and fluid. Cement and plastic are the preferred mediums for ferment. Scott's wines have a coolness as if the very climate of the Loire had mentored his wines. Alluring simplicity (in the best sense) from their uncomplicated upbringing, bouncy, puppyish, smashable wines. You would drink these all day long.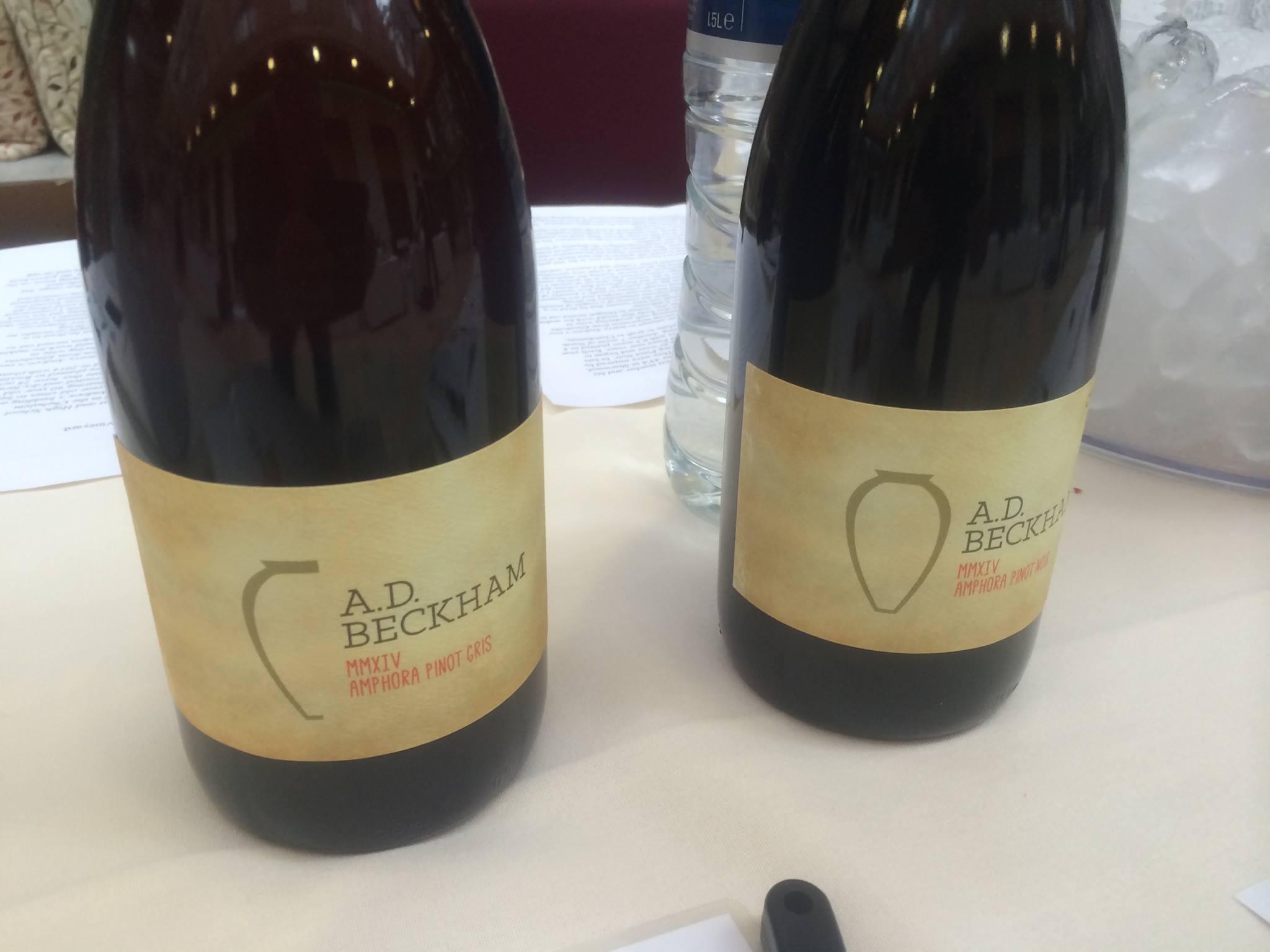 We also saw examples where the non-oak medium was avowedly the message. Andrew Beckham crafts his own amphora. He writes:
The terra cotta amphorae are incredible insulators. The fermentation in amphorae has been much cooler and more prolonged compared to our conventional fermentation vessels. Fermenting in amphorae we rarely exceed 22 or 23 degrees celsius. Primary fermentation takes in the neighbourhood of three weeks to a month for completion. Largely because of the cool and prolonged fermentation the wines coming from amphorae are bright, high toned and very compelling. Aging wines in the vessels has also yielded some incredibly interesting results. There is a common textural component that we would liken to dusty brick. There exists an iron-driven earth tone regardless of varietal.
The Creta wines – a Pinot Gris and Pinot Noir – are shaped by the prolonged fermentations and their experience in their clay shell. The wines are aerial and earthy at the same time.
Amphorae feature prominently in the wines of Ambyth, namely the wild and wildly wonderful Grenache Blanc which is fermented with skin contact for two weeks before being pressed off and rests in a 500 litre clay pot for a further 12 months before being bottled. It has an intense "orangey" colour and a complex nose of caramelised apple, dough, citrus, Indian spices and herbs. And the most unexpected blast of acidity. Wow! Beckham's Pinot Gris Creta spends 40 days on skins before being transferred to terracotta pots and acacia to age. The wine has a beautiful coppery-pink colour with aromas and flavours of red pear, sweet citrus and honey. 
Playtime in the winery means fun wines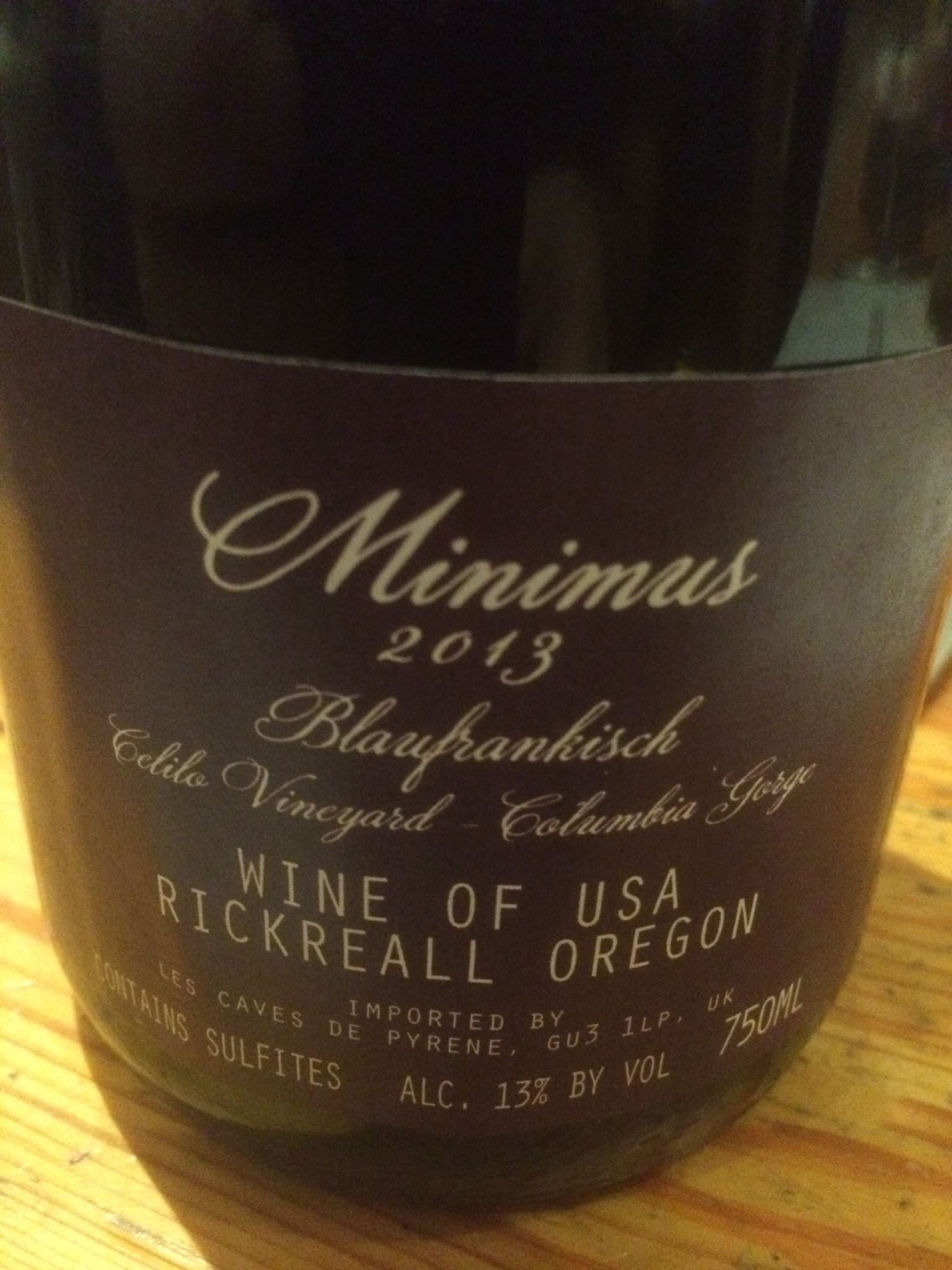 Meet Chad Stock of Minimus Wines and Matthew Rorick from Forlorn Hope. Chad Stock, is one of the new breed of Oregon vignerons. Insatiably curious (a good trait in a winemaker) he has created two parallel projects – one that allies specific grapes (Albariño, Grüner Veltliner, Mourvèdre, Chenin, Vermentino and Aligoté) to specific (lesser-known) Oregon terroirs, the other a fusion of ideas (some very wild), wherein the grape juice is the potential to be worked and shaped in particular ways. In his "Numerical Series" Chad probes style-boundaries by experimenting with different techniques such as flor-ageing, reduction and extended skin maceration as well as fermenting and maturing in a variety of formats including amphora, acacia and chestnut, and different shapes and sizes of oak. By pushing his own boundaries he pushes those of others. Matthew similarly sources grapes from a variety of areas including Russian River Valley, Sierra Foothills, Lodi and Napa. A rose one year may contain Touriga Nacional allied with other Portuguese grapes and the next be pure Mondeuse. Stainless steel and 8 year old neutral barrels seem to be favoured. The wines are clean and expressive.