Les Caves de Pyrène Piemonte Portfolio Tasting @ Dalla Terra
Nebarcettos (and others)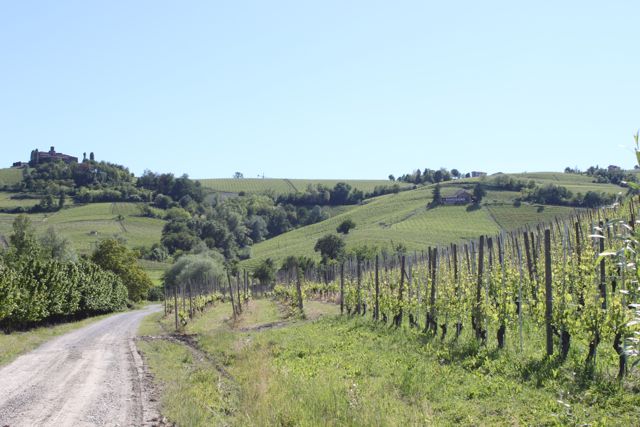 Piemonte is a region that bequeaths regal expectations, the result of a proud tradition of vine-growing and winemaking. People understandably focus on the big names of Barolo and Barbaresco, the so-called king and queen of this august court. The situation is naturally more complex; Piedmont is not immune to commercial fashion and the recent generations of winemakers have reacted accordingly. The vogue for more modern, drinkable wines has resulted in more "international wine styles" with new oak replacing the traditional Slavonian botte and the wines becoming deeper (but not more profound) and richer, loaded with lush fruit at the expense of traditional austerity and quintessential rough purity.
Our portfolio tasting at Dalla Terra in Covent Garden showcased a variety of wines, many of them sanguine and natural. We like our wines to retain their original authentic angles, making tongues and eyebrows arch with excitement.
We begin with Cascina degli Ulivi in the Alto Monferrato abutting Liguria. Stefano Bellotti started as an eighteen year old in 1977, reclaiming the family farm where there was less than one hectare of vineyard in existing use. He worked organically from the beginning, and introduced biodynamic methods in 1984. Stefano believes in the one-farm approach and in enhanced biodiversity, a philosophy that has put him frequently at odds with the local bureaucrats. The wines of Degli Ulivi are always pure and natural, made without manipulations. Their belief is that the art of winemaking is to accompany the wine through its natural transformation rather than impose or improve.
Bellotti Bianco (pure Cortese), for example, tastes like a Jura wine that has gone to Italy and been naturalized.  Medium yellow in colour, the nose initially suggests a rich butter pound cake, with nut and citrus oils. Later, with air, the wine has an amazing floral component, almost like lilies, with dry spice, quince, walnuts, and interesting Jura-like notes.  The wine has a very good finish with an interesting bitter walnut and churned butter aftertaste. The 2012 is very gentle with elements of white pear and golden plum, so drinkable and for your instant gratification that it is now bottled under a crown cap. Its ruddy brother, Bellotti Rosso (natch) is a blend of Barbera and Dolcetto, a youthful purple red, fresh and lively and bursting with dark berry flavours. In the mouth, the wine is smooth, round and fruity with a nicely balanced acid/tannin structure, and a crunchy, pulpy texture with vivid flavours of red plums and faded roses. Beautiful ripe strawberry fruit on the tart finish.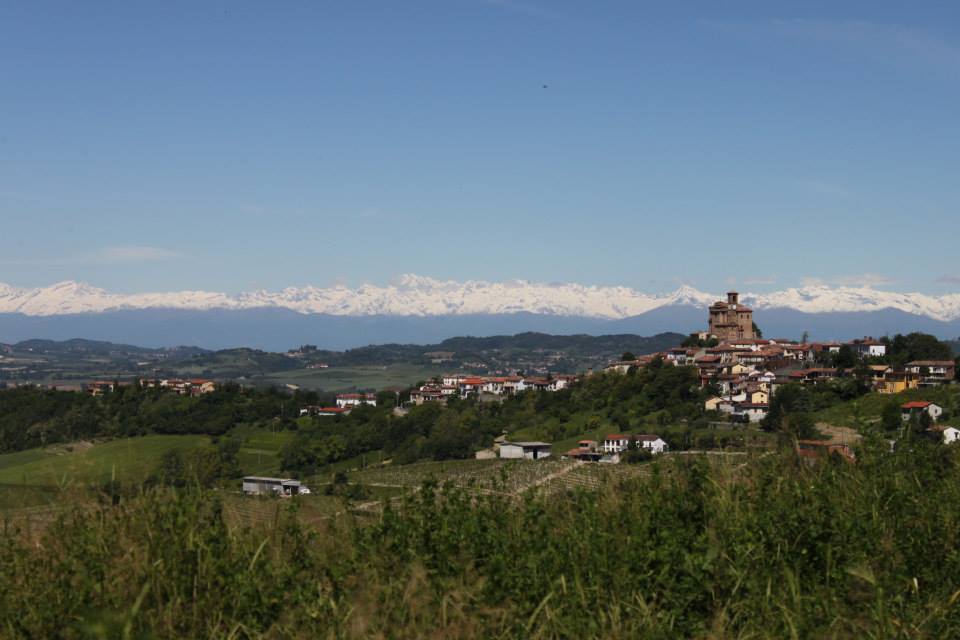 The recently-listed A Demua is skin-contact blend of various ancient autochthonous rarities.  A Demua means "go and have fun" in the Genovese dialect, an injunction that this wine obeys in spades. A remarkable field blend of five local grape varieties from a hundred year old vines: Timorasso, Verdea, Bosco, Moscatella (an old type of Chasselas) and Riesling. Put those grapes in your pipe and smoke them! The pressed grapes are macerated and co-fermented under a submerged cap in large oak casks for one month, whereupon the skins are removed and the wine returned to cask for one year before bottling. This is a true orange wine; amber-gold in colour with a touch of tannin from the grape skins, almost nut-skin-like in appearance and flavour. Remarkable aromas of dried apricot, dried-flowers, pine and fresh almond, a drink to lift the heart and nourish the soul.
Owned by the Zampaglione clan Tenuta Grillo estate spreads over 32 hectares of which 17 are dedicated to the vineyard. The production is based on low yields, scrupulous selection of the grapes, respect for nature and traditions. The wines reflect the naturalness and the characteristics of the land, the vines and the year. Pratoasciutto is Dolcetto which undergoes a long maceration of 30/40 days, ferment on native yeasts, extremely limited use of sulphur and ageing in big barrels in order to provide stability and complexity to the wine before being bottled without filtration. I have always wanted to like Dolcetto – maybe it's the name – but, unhappily, found most examples to be clumpy, fruitless and tannic. The nose here is instantly appealing, oozing violets, black fruits, liquorice, and Parma ham. Or Prosciutto given the name of the wine. The fruit is great, the tannins velvety and there is a bitter black cherry rasp to the finish that taps your taste buds on the shoulder and reminds them that absence of food is not a serious option. I am a convert – to this wine at least. Dolcetto et decorum est. Pecoranera is another game chicken with an unashamed sanguine accent. Unfiltered and made without added sulphur this blend of Freisa, Barbera, Dolcetto & Merlot is meaty and smoky with notes of sweet-cure bacon and wild hedgerow fruits. Both these reds would have an affinity with grouse or partridge on the high side or a good civet of hare.
Baccabianca is crazy Cortese (Barkingbonkers), 30 plus days of skin contact giving the amber colour and grip that add texture and complexity to a wine which, aromatically speaking swirls dynamically in the glass revealing spiced apricot and other fleshy late-summer fruit, then hints of marzipan, white flowers and wild herbs. The palate echoes this with some additional ginger and pepper from the lees and tannic crunch from the skins. Moderately offensive if you are a traditionalist and like your whites to be clear as a glass of water, otherwise joyful japes unconfined.
Piemonte is not all raw meat and amber wine. The cool restrained reds from Cantina Iuli, Pinot with pretty perfumes, and lancing Barbera, illustrate that modern winemaking allied to natural farming can be an enchanting combination. Iuli is located in a small little town called Montaldo in the somewhat undiscovered region of Cerrina Monferrato, north of Asti. The population of Montaldo is 110 people and counting… very slowly. In addition to the mixed and poor soil type in the vineyards (which helps the strength and vigour of the vines), there is, importantly, a vein of limestone that runs directly through the property – giving an amazing acidity and special character to the wines.
Fabrizio (Iuli) is certified organic in his vineyards, and the land surrounding the town has always been cultivated without chemicals for as long as his father can remember. He is technically organic as well in the cellars – although has decided not to go through the paperwork and extensive "red-tape" bureaucracy to be certified in the cellar.  "I know how I make my wines, and want them to be as natural as possible – reflecting the territory and nature of the grape, and do not need this piece of paper to prove that."
He interferes as little as possible with the natural process of fermentation and ageing. Iuli uses natural yeasts, and does not fine or filter the wines. With an average of three years ageing (some wines see less, some more), Fabrizio believes the wine prepares itself in its own time to go into the bottle and his only job is to communicate (taste) with it along the way to find out where in its life line it is. As he says: "While each is different and has a unique personality – they all share the common characteristic of being 'loyal and honest'".
Born from Burgundy clones that Fabrizio selected and planted in 1999, "Nino" is a completely unique expression of Pinot Nero from the white calcareous-clay soils of the Monferrato vineyards. These vines are still babies for Pinot Nero, but the wine is starting to show a real complexity and elegance. A simple everyday Pinot Noir that has the depth of a Burgundy, but also the playfulness of a wine made with young vines. Bright sapid cherrystone character, a moderate rasp to the red fruit, a hint of briar and tar and well-integrated wood. One for food. File under "it looks like Pinot, it smells like Pinot and by jiminy jillickers it tastes like Pinot."
Fabrizio calls himself a Barberista for his love and dedication to this grape. A brace of cracking Barberas proves the point with a modern interpretation of a traditional method. Rossore, so named because 'Rossore'(blush or crimson) is likely to be the colour of your cheeks after drinking a bottle of this wine, is from organically-farmed 60 year old vines and aged 22 months in used French oak barrels. Has the beautiful acidity, fruit and texture that Barbera is known for.
The Barabba vineyard is his oldest plot of Barbera, with vines planted in 1930 and 1960, located on a steep, rocky hill with a limestone core. Loads of intensity, complexity and persistence in this wine. You'll get aromas of blackberry and cherry followed by exotic spice, vanilla and tobacco. The mouthfeel is smooth, soft and thick, velvety but the Barbera cheekbones are still apparent.
If Iuli represents the elegant modern take on the old, then Trinchero is unreservedly muscular, shaggy-maned throwback. This old winery in Agliano Terme is situated in Vianoce, an ancient-hamlet including a peasant house and a church. It was built during the first half of the 19th century by the Visconti Barons of Ornavasso, then, at the beginning of the 1920s it was bought by the brothers Secondo and Serafino Trinchero. Today it belongs to Renato and Ezio. Most of the vines are over fifty years (some were planted in the 1920s) with resultant smaller yields giving structure and quality to the wines. Historical note: in 1952 the first bottles of Barbera d'Asti were produced and Trinchero was given position number one in the wine-producer registry of Asti. The vineyards are organically farmed. The baby Barbera is from 25 year-old vines with the grapes fermented in cement vats and matured in old wooden barrels for another twelve months before bottling. I say baby Barbera, for the vintage is 2007, and the wine has some middle-aged spread, but it has the four-square-thumbs-in-belt Asti rustic poke, being full, bold, sour, savoury and tasty. Vigna del Noce, the flagship wine of the estate from an eighty-year-old plot of vines, undergoes 45-day maceration on the skins, enjoys a leisurely fermentation in 50-hl Slavonian oak barrels and is aged for a further minimum of 2-3 years in large botte. Red with violet tints, this Barbera announces itself in the glass with deep, very intense, complex and heady perfumes and a palate of pungent vitality and, ahem, soulful rusticity. These hairy Barberians are at your gates clamouring for entry.
And boy as we love tannin and acidity so the scorpion flick of Trinchero's Grignolino d'Asti is a tongue-puckerer to relish. Think Nebbiolo minor, Grignolino's a relatively pale red with the kind of astringency that withers gums and tongues, but Trinchero treats this grape with the respect it deserves and the wine is terrific with a bean stew or the traditional Piemontese harvest bagna cauda.
Azienda Bera Vittoria produces wine from grapes ripened in the family vineyards situated in Sant'Antonio di Canelli, Regione Serra Masio, the heart of the most qualified, the most prestigious, and the most ancient area of production. The vineyards are facing towards the south-east on slopes of from 50 to 70%. The ground is marmoreal and strongly calcareous, originating from ancient sea-beds which surfaced five million years ago.
The vineyards are cultivated using organic production methods: only humus and compost are used; chemical fertilisers, herbicides, insecticides and pesticides banned. Parasites are successfully discouraged using copper sulphate and powdered sulphur. In the Azienda Bera vineyards the ecosystem is alive: an abundance of snails is proof of a harmonious environmental balance and cover crops are sown between the vines.  The Moscato is the best we've tasted and offers more in terms of flesh and softness than effervescence, combining melon, orange peel, wild mint and sage on the nose. In the mouth, it is moderately sweet and superbly vinous and would complement richer desserts as well as being the dream partner for strawbs.  Easy to distinguish this Asti from your Elbling. The unfiltered Barbera "Le Verrane", fermented in cement tank, is true to type with varietal notes of mulberry, cherry-soda, balsam and mint and faint traces of liquorice on a palate that drives all the way. The wine undergoes its malolactic in the bottle; do not be surprised to get a Lambrusco-style tongue-prickling epiphany. This unpredictable red is a party in glass, vinous space dust. It is frivolously serious with a charming bitter-sour contrariness guaranteed to offend the techno-squeakers, nit-pickers and fault-fetishists. The vivid Ronco Malo is classic Barbera cherry-amour; it brilliantly grips tongue, throat and attention. More vinosity and layers here.
It's not all red and Moscato here. "Arcese" is a pleasant fusion, but not confusion, of three Piemontese indigenous white grape varieties: Favorita, Arneis and Cortese, a blend that works to balance aroma, texture and acidity to excellent effect, a churn of yeast, peach skin, almond blossom and smoky minerals. The palate is alive, prickly, cidery and tangy – drinking it is like attaching electrodes to your taste buds.
Hidden in the hills just outside the sleepy town of Neive near Santo Stefano Belbo is Ca' d' Gal, home to Sandro Boido and some of Piemonte's most sublime Moscato d'Asti. The vines are located on steep slopes on variable soils of limestone-clay and sand. Capturing laughter in every delicate bubble, Moscato d'Asti is an effervescent elixir that lifts you up and slows time to a delicious crawl (and contains only 5% alcohol.)
In contrast to so many other mass-produced Moscato wines, Ca' d' Gal Moscato d'Asti is truly an artisanal nectar, harvested by hand and vinified naturally in closed vat with extended lees contact. This added attention is what gives these delightful wines their unique personality—and surprising ability to age.  "Lumine," the estate's regular bottling from 30-35 year old vines, captures sunny notes of elderflower cordial, mandarin oranges and rose petals, illuminated by a lovely silver-gold effervescence on the tongue. Flavours of white peaches and pears melt on the tongue like cotton candy, perfectly light and balanced. Just a touch of fragrant bubbles cleanses the palate. Vigna Vecchia, as the name implies, is from older vines (55+ years old) grown on very steep slopes, with fruit harvested entirely by hand and picked over ripe. Yields from this one hectare vineyard are a mere 40hl/ha. A noble, almost toasty nose reminds one of Champagne, with rich white and yellow peach aromas. Torn mint leaves, sage, fresh Blenheim apricots and delicate nectarines come together on the palate. Abundantly juicy, deliciously complex, this is (as the Marks and Spencer voice intones) not just any Moscato this is Ca' d' Gal's gently fizzy-fruity pornucopia. Sandro also puts aside 1000 bottles of Vigna Vecchia to release after several years when the wine develops remarkable Riesling-like qualities. Drink joyously as an aperitif, as a sorbet-like palate-cleanser, with strawberries, fruit pastries, torta di nocciole (hazelnut cake) and zabaione.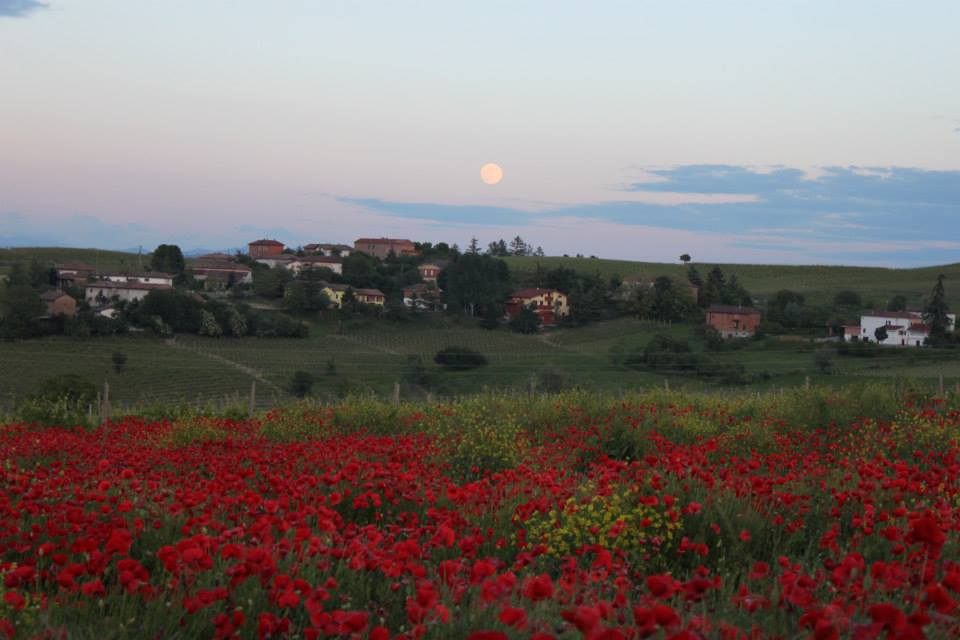 And so to the Langhe hills, the misty Cote d'Or of Piedmont as it were, where the Nebbiolo struts its stuff.
The Nebbiolo grape is thought to derive its name from the Piemontese word nebbia which means "fog." During harvest, generally in late October, a deep, intense fog (or smog) sets into the Langhe region, where Nebbiolo thrives. An alternative (and maybe closer to truth) traditional explanation refers to the white milky veil that forms over the fruits as they reach maturity.
Its history is believed to start in the 13th century, and it was cultivated since the 14th Century in Valtellina, an east-west valley in the Lombardy region at the foot of the Alps, north of Lake Como. Yet, the first clear written references to this grape date back to the 19th century. Until now Valtellina is the only region where Nebbiolo is grown in Italy outside Piedmont, along with the Aosta Valley.
The grape is used to make wines such as Barolo, Barbaresco, Gattinara and Ghemme. These lightly coloured red wines can be massively tannic in youth with intriguing scents of tar and roses. As they age, the wines take on a characteristic brick-orange hue at the rim of the glass and mature to reveal complex aromas and flavours (violets, tar, wild herbs, cherries, raspberries, truffles, tobacco, prunes). These wines often take years to become approachable as they require ageing to tame the tannins. As part of a global trend begun in the 1990s, younger producers have sought to make their wines more approachable in their youth. Others have begun to use new barriques to smooth the tough skin of the savage beast. We feel that this misses the point for it represses that perverse marriage of elegance and ornery that Nebbiolo accommodates.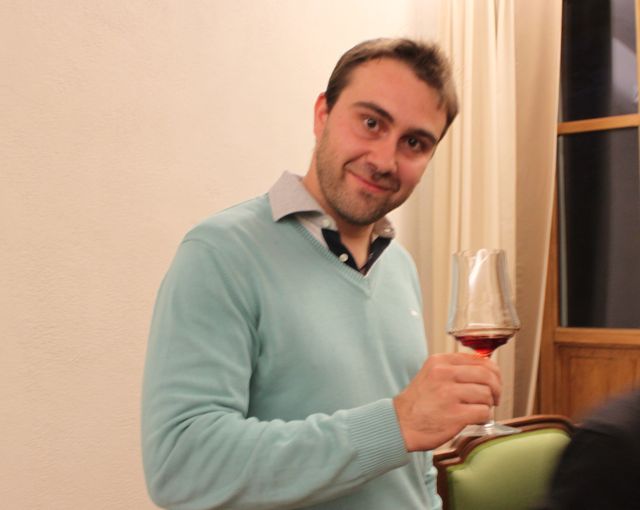 And so to Luca Roagna. But before we embark on our tannic embrace a delightful Dolcetto – just sweet with the kind of fresh blackcurrant jam flavours that you could lick forever. Deep purple-red colour, immediate aromas of violets, black plums and dark confit cherries, round in the mouth with some classic tar and underbrush flavours, underpinned by strong spine of ripe tannin and moderate acidity
The Roagna family has always made wine in the century-old method guaranteeing a significant extraction of tannins from the Nebbiolo grape, one that gives the wines their complex and everlasting structure. As we know the best things in life can't be rushed.
The grapes for their Barolo come from selections of vineyards with a southern/south-eastern exposure in the area of Rocche di Castiglione Falletto from the historical Cascina Pira. The qualities of sandy-calcareous soil in this area give the wines its unique tannic quality with elegant aromatic sensations. The Barolo is aged four to six years in medium-sized French oak casks, then for a couple of years in bottle.  If kept properly it can live 50 years or longer. Garnet-red colour this Nebbiolo has a clear "goudron" (tarry) aromas, tobacco, spices, and white flowers with a constantly-evolving bouquet. Full, austere and elegant taste with a great structure.
If his Barolos are smart then Luca Roagna's Barbarescos are brilliantly harmonious and terroir-articulate. Grapes are hand-picked and undergo soft pressing with destemming. Fermentation is in wood casks and maceration for 70-90 days, so that the autochthonous characteristics are extracted. It is like a slowly cooked soup or stew where all the flavours are allowed to amalgamate. Pure aromas of wild rose, blond tobacco, oregano (and other dried herbs) and the classic gentle "goudron". Asili is a cru of 0.2 hectares on a south west facing chalky-limestone hill, the exposure helping to ensure a riper style.  Silky tannins frame a deeply expressive core of red berries, flowers, spices and anise, all of which come together beautifully in this sumptuous, layered Barbaresco.
Young humble Paolo Veglio tends the vines at his micro-estate Roccalini in Barbaresco. Paolo's family has owned the estate since 1920, but he is the first to be a winemaker and bottle his own wines. Before this, his family sold the grapes of the estate to his neighbour Giacosa from 1990-2005.
His approach to winemaking is to start in the vineyard and produce healthy grapes. He loves to be on his tractor and tend the land, works organically and takes care of many things by hand. The resulting wines are rich in flavour, complex in the terroir of the land, joyful and balanced.
Fermented in stainless steel for 60 days without temperature control and with indigenous yeasts the Roccalini Barbaresco spends 20 months in Slovenian grandi botti. Red and purple flowers on the nose gently kissed with cinnamon and nutmeg, leading you into an embrace of redcurrant, black raspberry, spice, sweet basil, white pepper, bitter chocolate and black cherries. There are violets and minerals in there as well and the ensemble manages go be rustic and fine at the same time with a very long finish. This is your house Barbaresco, and ridiculously good value, with that young vines, fruit-forward style that makes it drinker rather than a keeper.
The philosophy at Tenuta Cavollotto is simple: steadfast devotion to tradition combined with a high regard and respect for modern viticultural and winemaking techniques resulting in complex and elegant Barolos that are released for sale only when they have acquired perfect maturity. The estate produces three Barolos: two riservas and their anything but "regular" Bricco Boschis.
The property consists of 65 hectares of which 60 are planted with vines.  Since 1970 they control the grass covering between the rows of vines to help maintain the natural organic substances in the soil and have re-introduced natural insect predators allowing for the elimination of pesticides and other toxic chemicals.
Their Barolo Bricco Boschis is a cru in and of itself. Ruby red at the core with slight garnet reflections, this intense Barolo has an ethereal nose, with powerful aromas of dried fruit, jam, liquorice, and violet.  A rich, full-bodied wine, it is warm and quite soft, with evident but ripe and sweet tannins.
The San Giuseppe Riserva is also fermented in steel vats, with maceration on the skins for 20 days; it is then aged in Slavonian-oak casks of various capacity for three years and six months. Ruby red in colour, with intense garnet reflections, the nose on this San Giuseppe is intense, packed with ample aromas of dried fruit, dried flowers and more ethereal notes of tobacco and liquorice.  Full-bodied and harmonious on the palate, the wine is warm, rich, and soft in the mouth, smoothing the tannin with a pleasant long finish.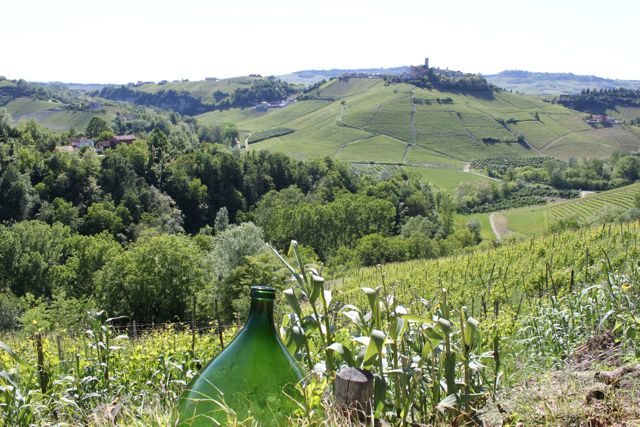 In summary our Piemontese wines smell and taste of the earth into which the vines plunge their roots. They are aromatically reminiscent of autumnal walks through mulching leaves, possess a misty-murky quality, are wild, (old)woody and astringent, texturally rough and yet occasionally fine. The fruit rasps, the cherries, plums and damsons invariably bitter and crunchy, the acids mouth-watering and the tannins drying. As nature intended. On their own they are brawny beasts; they would prefer to say boo to a goose, pheasant, piece of venison, or any game, pork or beef dish. Whilst a youthful few may be for instant gratification, many others require your contemplation with big glass in order to truly truffle out their rough charms.
Thanks again to Dalla Terra for hosting this event and looking after us.